Verandas are a proven and extremely popular option to get the most out of your garden, creating bright and spacious living areas that can be used in all seasons and in any weather. At Better Outdoors, we offer several modern versions of the classic veranda, maintaining the simple, practical form but updating the design with our robust aluminium construction to achieve beautifully slimline appearances, large, open spans and even the option of insulated profiles for incredible thermal performance.
The superior structural integrity of our aluminium verandas not only helps to achieve slim, contemporary designs with hard-wearing powder coated finishes, but also allows the option to add elements like glass walls and sliding doors to create a completely enclosed space without compromising on the rigidity or lifespan of the veranda.
Adding a beautiful, complementary feature to a new building, or a modern flair to traditional and heritage homes, these verandas can be easily tailored to suit property style and personal tastes. This flexibility is enhanced by our huge range of colour choices and stylish additions, to help to bring a customised look and feel to every project.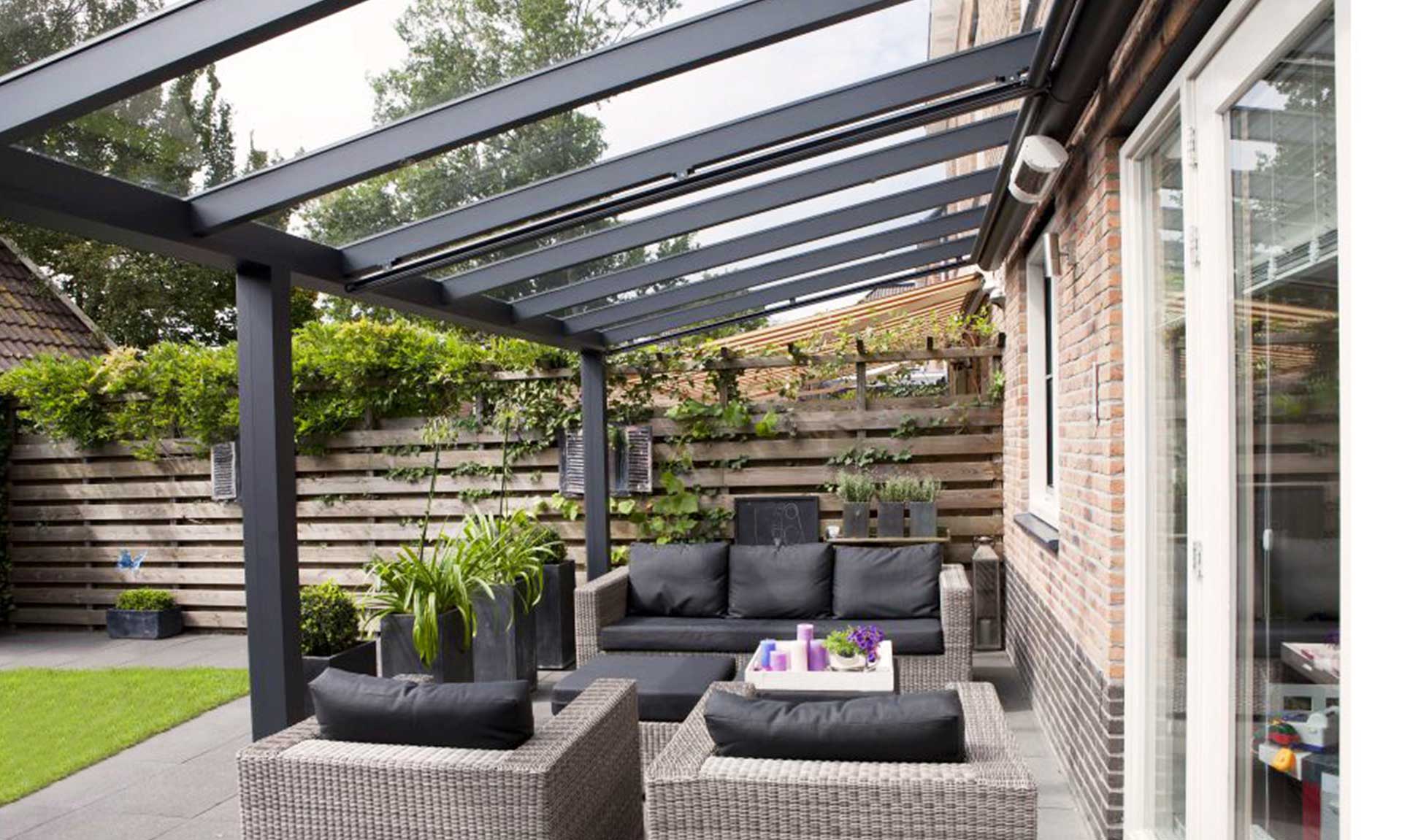 Full Aluminium Construction
Complementing their highly modern look, all of our slimline verandas are manufactured using premium grade aluminium. Not only does this allow them to achieve a beautiful architectural look, it also allows them to outperform their uPVC and timber counterparts when it comes to performance, design, sustainability, and lifespan.
Slimline Design
As aluminium is able to achieve an impressive degree of inherent strength, we are able to offer a beautifully slimline veranda design. With this, larger glazed areas and slim sightlines are available while still benefiting from all of the structural assurance, durability and home security that is achieved through the other bulkier designs on the market.
Hidden Drainage & Fixings
To ensure the appearance of our verandas is not compromised by unsightly, functional features, we ensure that all of the drainage and fixtures are cleverly concealed. This means that the slim and stylish aesthetic is maintained, keeping everything consistent and eye-catching. Although hidden, the drainage and fixture elements still function as they should.
Variable Pitch
To help with installation flexibility and to maximise their modern appeal, our slimline verandas can be fitted with a pitch as low as 5°. When fitted, these verandas will be able to offer a subtle, classy finish that will result in a more elegant protrusion from the home. It also allows this veranda to be installed onto a wider variety of property styles.
Key Features
Slimmest System
Outclassing other aluminium veranda systems in the industry, the slimline veranda offers an unbeatably svelte design. By achieving a post depth of just 173mm, and completely integrating the slim gutter profile into the framework, these verandas create contemporary spaces featuring the slimmest possible sightlines, without compromising on quality.
Best Value
Our slimline system offers the best value for smaller verandas, and those which do not need to incorporate wide openings for large sliding doors. Smaller gardens will benefit from the slimline veranda's reduced footprint and be enhanced by its minimalist aesthetic. Choose the slimline veranda for a muted addition to your home that can be easily tailored to suit tight spaces and unconventional garden layouts, but still achieve a perfect fit.
Low Maintenance
Unlike home improvements constructed from timber or steel, our powder coated aluminium verandas require very little maintenance to perform at their best. All that's needed is an occasional wipe with a damp cloth to ensure they look as good as the day they were installed. They will not warp, crack, bow or twist from long-term exposure to the elements, and never need rustproofing or repainting.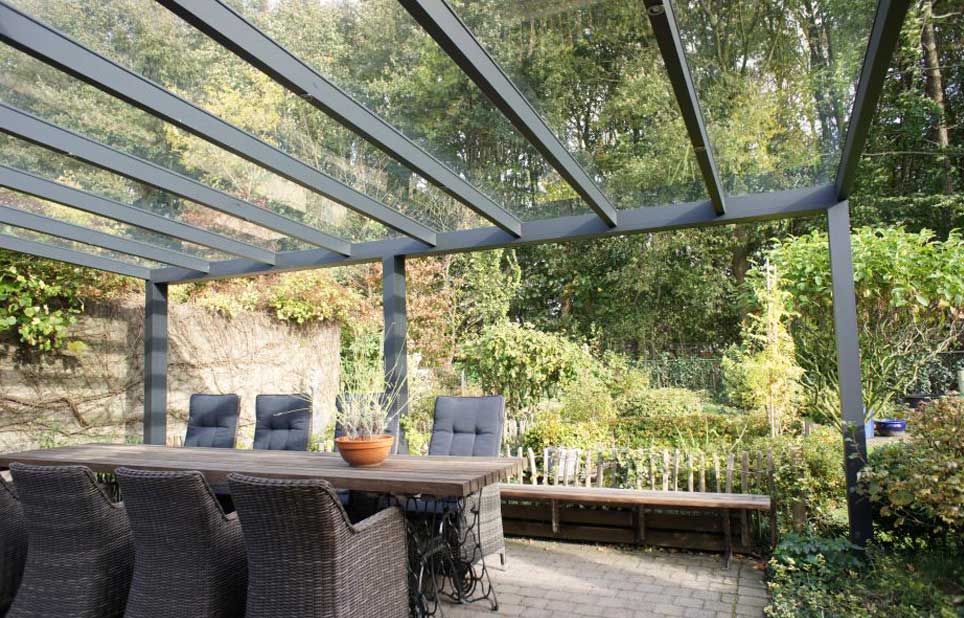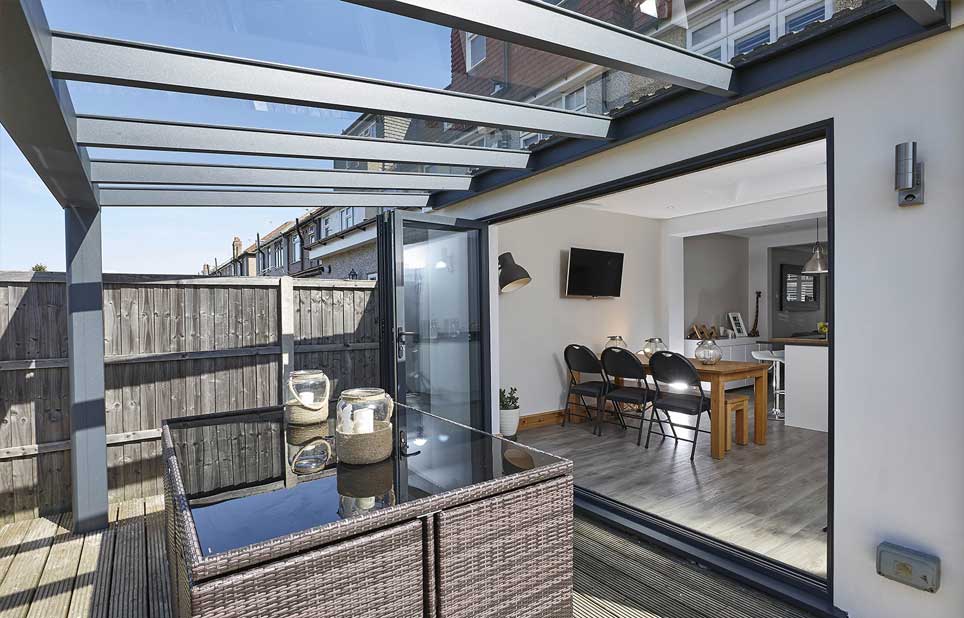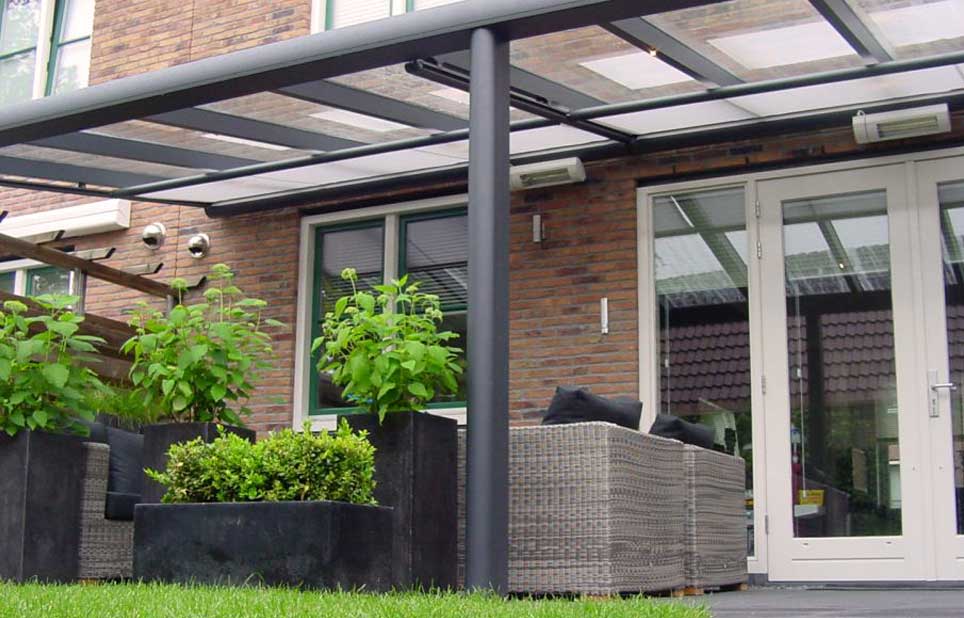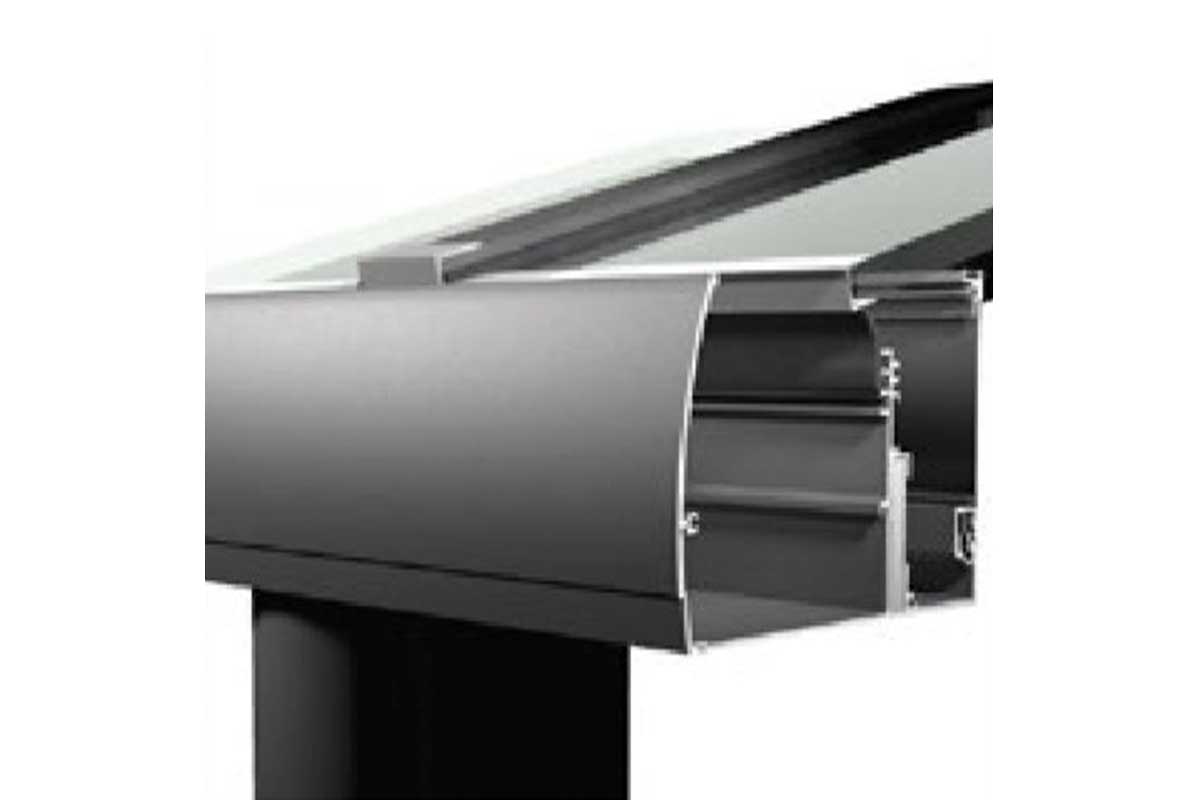 Colour Options
All our verandas come with durable polyester powder coating, and are available in a range of 7 selected colours as standard. This includes a variety of contemporary white, grey and black shades and a mixture of metallic, matte and gloss finishes. These colours have been specially chosen to complement the sleek, modern character of our designs, but if you have a specific look in mind for your project, you can also pick from the full range of 100+ RAL colours for a truly bespoke feel.
Optional Extras
To ensure your slimline veranda slots seamlessly into your style of living, it can be enhanced with wide range of high-quality options. These include glass sliding doors, glass walls, built-in LED spotlights, sleek integrated heaters and privacy blinds, all of which can be configured to your exact preferences. Why settle for off-the-shelf options when we can create a gorgeous new living space designed entirely around you.
Hassle-Free
We know that finding the free time to improve your home is never easy. With our industry leading supply times and unique, quick to install designs, you'll be able to revitalise your property and enjoy your new outdoor living space sooner. Choose the slimline veranda for less waiting, less disruption and more time spent enjoying your garden.
Customisable Options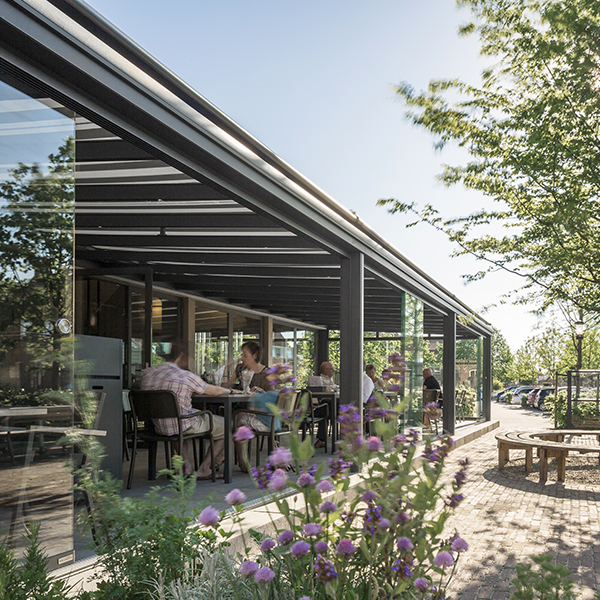 Glass Sliding Doors
Beautifully transparent full-glass sliding doors allowing you to open up one or more sides of your veranda/pergola. Slim frame, powder coated to match your veranda/pergola. Available in up to 5 tracks for maximum clear area. Locking handles for increased security and clear weather-seals for improved airtightness also available.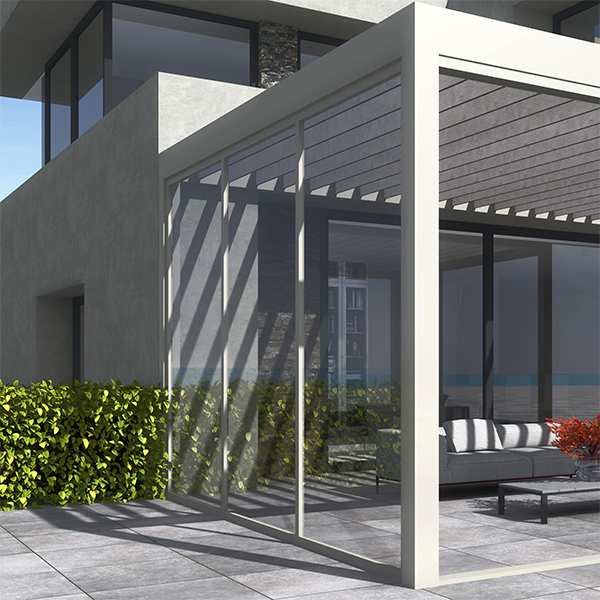 Glass Walls
Glass walls to close off one or more sides of your veranda/pergola without spoiling the view. Slim frame, powder coated to match your veranda/pergola. Available with aluminium mullions for better airtightness and stability or glass-to-glass joins for the ultimate in clear, unobstructed views. The glass can be optionally back-painted, heated, solar coated or switchable.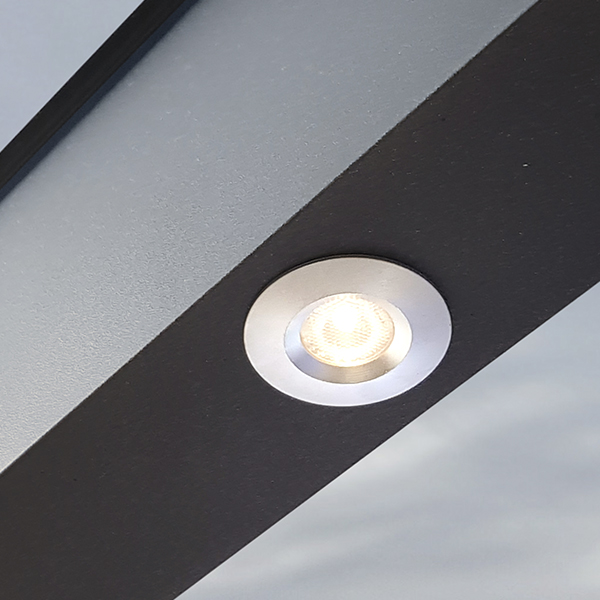 LED Spot Lights
Ultra-compact, highly efficient warm-white LED downlights which can be integrated into the slim rafters of any of our verandas in groups of up to 12 spots. Can be operated and dimmed with the optional remote control or hard-wired to a light switch.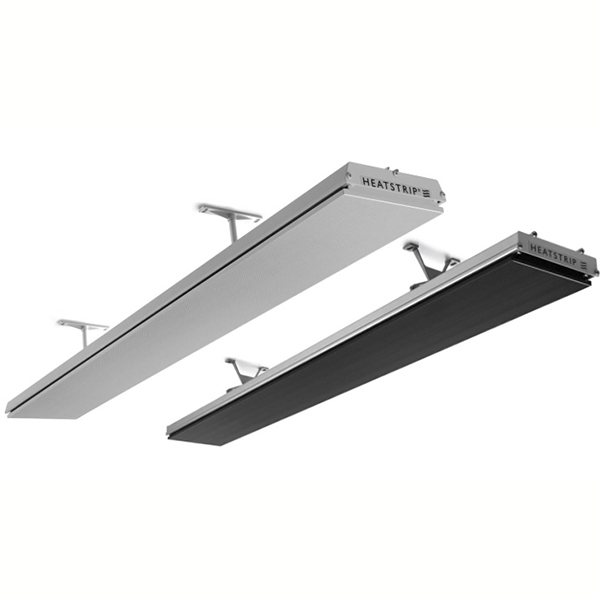 Heatstrips
Modern, elegant electric strip heaters designed and weathersealed for outdoor use. Produce a radiant heat with zero orange glow, which heats people and surfaces rather that the air and so are suitable even for open-sided verandas and pergolas. Available in both light and dark finishes and a range of wattages to suit all needs.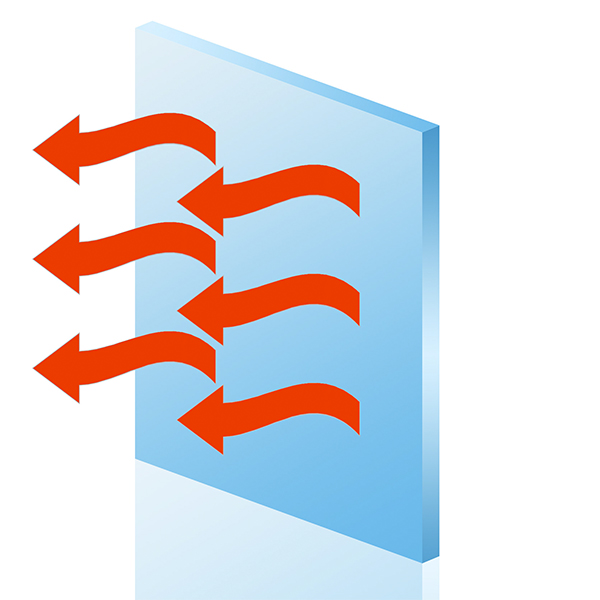 Heated Glass
Glass produced with a completely clear thermal film which transforms the entire pane into a transparent electric heater. Heats your garden room in an efficient way and ensures glass walls, and roofs are kept clear and condensation free. A beautifully minimal and extremely practical heating solution. Can be integrated into most of our glazed products and is available in a range of wattages which we can assist you in specifying based on a range of factors such as floor area and intended use.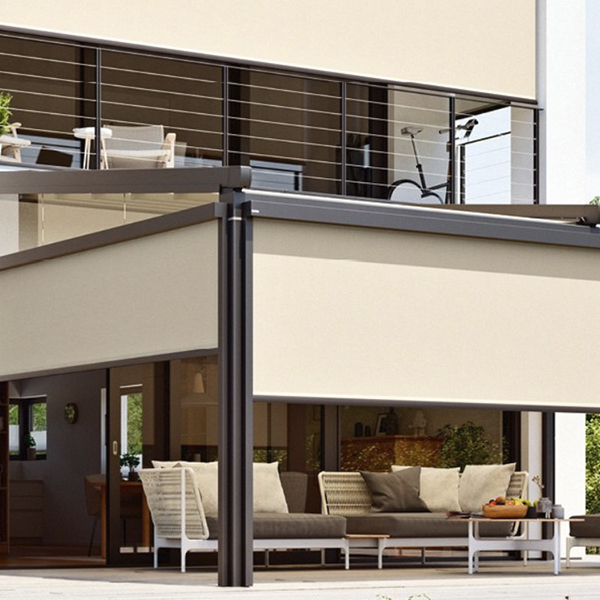 Vertical Blinds
Robust, motorised external blinds from the leading German manufacturer which create privacy and shield your garden room from the wind, without blocking out all light. Blinds are tensioned to withstand high wind pressures and the wide range of available fabrics are designed with durability in mind. Can be integrated into any of our verandas or pergolas with their slim casing powder-coated to match. Operated by remote control, and can also be integrated with home-automation systems and smartphones with the optional smart module.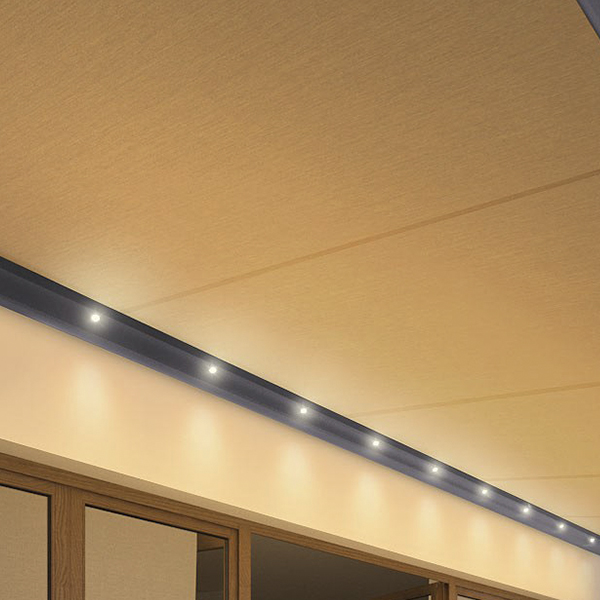 Roof Blinds
Robust, motorised roof blinds from the leading German manufacturer which create privacy without blocking out all light. Blinds are tensioned to withstand high wind pressures and the wide range of available fabrics are designed with durability in mind. Roof blinds can be top-mounted or under-mounted, and integrated into any of our verandas with their casing and tracks powder-coated to match. Operated by remote control, and can also be integrated with home-automation systems and smartphones with the optional smart module.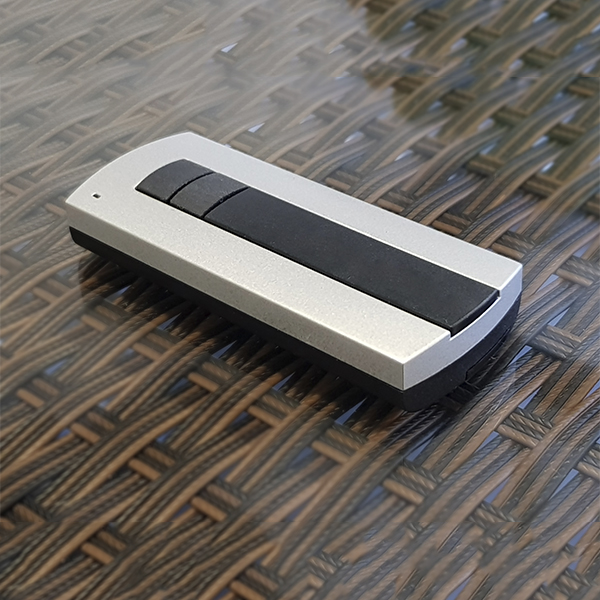 Remote Control
Optional remote control for your veranda which operates and dims the LED spot lighting. Included remote control for your pergola which opens/closes/adjust the roof blades, and can also operate and control the optional LED strip lighting if installed.
Colour Options
Our Pergolas and Verandas are available in over 100 different custom RAL colours, as well as the standard colour options.
Please note, colours may appear differently on your particular device screen. Images are for reference only.
FAQs
What is a veranda?
A veranda is a stylish outdoor space attached to a building, typically on the ground level. It is usually open on one or more sides and often features a slanted roof or awning for protection from the elements. Verandas are an innovative way of extending the living areas, providing a place to relax, entertain guests, or enjoy outdoor views while still being sheltered.
What are the benefits of a veranda?
Verandas provide increased living space to enjoy with family and friends. Our collection of stunning verandas creates a seamless transition between the indoor and outdoor spaces, allowing homeowners to enjoy a close connection with nature and the surrounding environment. Verandas can also serve as an excellent way to increase your property value and improve the overall appeal.
What are verandas made of?
Our verandas are made of premium grade aluminium, the most robust and versatile construction material. The aluminium frame lends structural strength to the verandas and adds a modern touch to the aesthetics of the property.
How many types of verandas do Better Outdoors supply and install?
We offer three types of verandas: slimline verandas, panoramic verandas and panoramic plus verandas.
What is the maximum size for a veranda?
We offer verandas up to 10 metres wide and 3.8 metres deep.
What is the max width for a veranda without an additional post in the middle?
If you want to exclude an additional post in the middle, the maximum width for our Slimline verandas is 3 metres. For our Panoramic Veranda range, the maximum width is 5.5 metres; for our Panoramic Plus Verandas, it is 4.5 metres.
Can the veranda be made deeper than 3.8m?
No, as the max size of a glass panel is 3.8m, and we don't have any joints in the roof.
Can I have coloured glass on the roof of the veranda?
Yes, Better Outdoors offer coloured glass roof with our verandas range at an additional cost.
How to find out the cost of verandas in the UK?
You can find out the cost of verandas for your UK property by simply starting your online, free quote enquiry, and we will share the price estimate based on your specifications.
What are delivery times and installation times?
Our delivery time for verandas is approximately 8-10 weeks from receipt of the deposit and survey. Our expert installers will install your brand new veranda in just two days.
Need a Quote?
Get in touch with us today to discover more about our range of products. A member of our friendly team will be happy to discuss your requirements and construct a complete quotation based on your exact specifications.
Request a Quote