Our bioclimatic pergola will redefine the way you think about outdoor living, creating a stunning new space that you can enjoy all year round. With a modern, high performance remote controlled motorised blade system integrated into the roof, you can easily adjust this design for solar shading, ventilation, illumination and rainfall to suit any weather.
The robust, freestanding design of our pergolas allows them to be used either to enclose your terrace and extend the overall living area of your home, or build a luxury relaxation space anywhere in your garden. We can even design your pergola roof to be cantilevered or suspended with no need for posts at all, creating the ultimate modern aesthetic whilst still offering comfort and complete peace of mind.
We know that getting the right feel is important when adding something new to your home, which is why our bioclimatic pergolas can be designed to suit your tastes. With the freedom to choose any combination of glass walls, sliding doors, radiant heaters, privacy blinds and integrated LED lighting, our pergola's unique modular system, gives you the freedom to create the outdoor living space of your dreams. Whether the aim is to use this new addition as a garden lounge, a barbeque spot, or simply transform the look of your property, our designs simply offer more.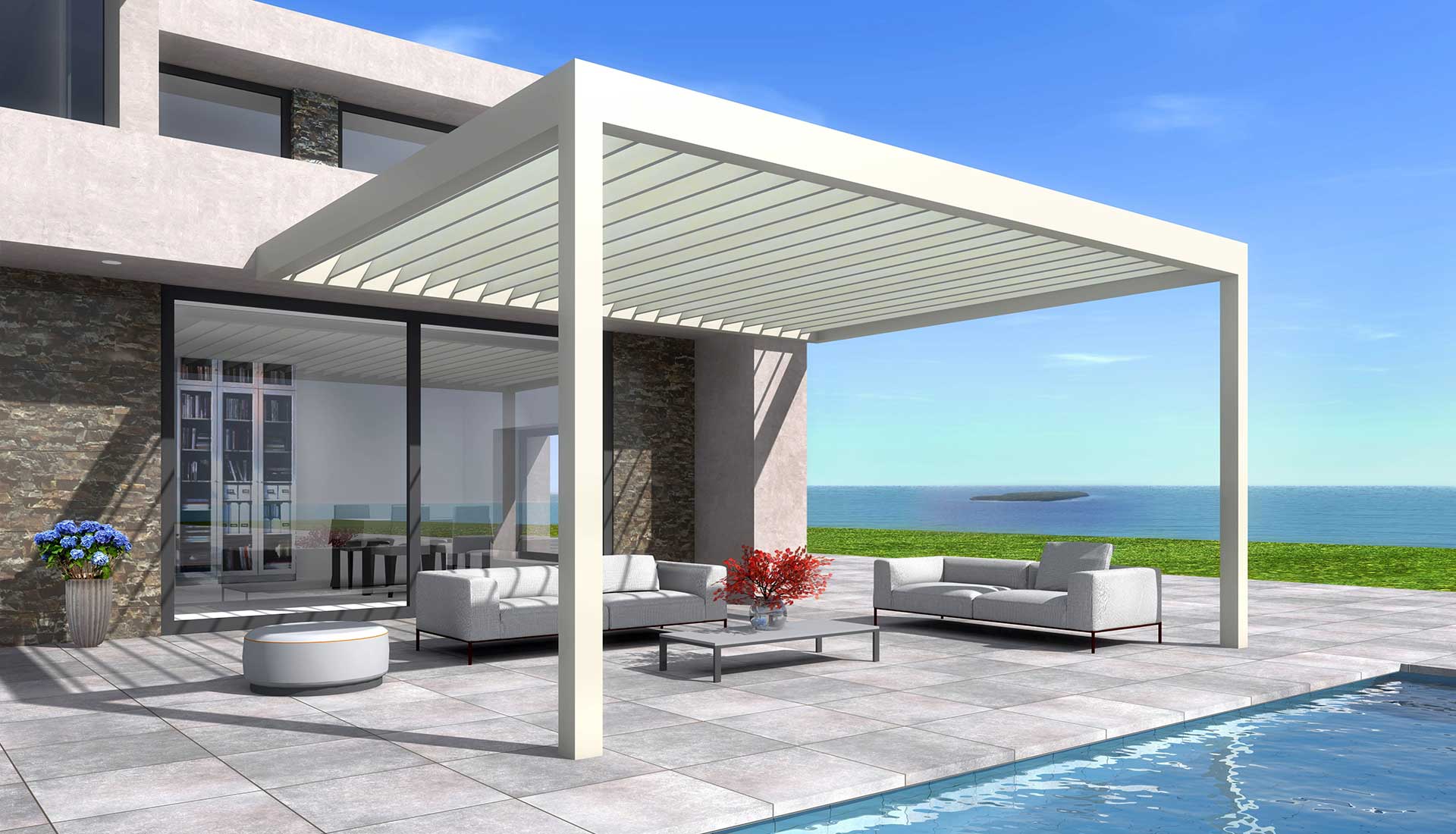 Full Aluminium Construction
To fit in with modern demands, all of our pergolas are manufactured from high quality aluminium. This means that they can offer the very best in function and form, bringing a sleek and stylish look that upholds a high degree of inherent robustness. It is the only material to use to produce a pergola that is going to go above and beyond.
Large Span (Up to 6 Metres)
Due to their structural integrity, our pergolas are able to accommodate a wider area. With up to 6 metres to use, these designs can be tailored to a wide spectrum of homes to make sure they are the perfect fit. This larger coverage area allows our pergolas to be used for a wider variety of purposes, complemented by a range of extras to give it that 'wow' factor.
Motorised, Remote Control Roof Blades
Whether heightened ventilation is required, or complete coverage from the elements, our pergolas are designed with motorised roof blades to accommodate. To make things easier for you, they operate through a remote control system and can also feature a rain sensor that automatically closes the roof. They are also accompanied by a 2 year guarantee for your peace of mind.
Optional Bluetooth Module
Offering the best in modern technology, our pergolas can be fitted with an optional Bluetooth module. This will enable you to control the roof blades with either a mobile phone or tablet, allowing for quick response to any changing weather. With convenience in mind, this pergola is sure to be a worthwhile investment for your home.
Key Features
Colour Choice
All our pergolas come with durable polyester powder coating, and are available in a range of 7 selected colours as standard. This includes a variety of contemporary white, grey and black shades and a mixture of metallic, matte and gloss finishes. These colours have been specially chosen to complement the sleek, modern character of our designs, but if you have a specific look in mind for your project, you can also pick from the full range of 100+ RAL colours and the option of two different shades for the framework and roof blades, to create a truly bespoke feel.
Prompt Installation
To reduce construction time and minimise disruption to your schedule, our bioclimatic pergolas have been designed for fast and simple installation. Their fully mechanical assembly method means they can be transported using smaller vehicles and maneuvered through tighter spaces before being built to their full size. This helps to overcome access issues that are common with older properties and ensures installations can be carried out in an efficient way without compromising on quality.
Made to Last
The premium-grade aluminium construction of our pergola outclasses any timber or uPVC alternatives, offering a far superior lifespan and lower maintenance requirements. Aluminium is the architectural material of choice for exposed locations throughout the world, eliminating the risk of rusting that comes with steel, the UV degradation common to uPVC and the potential for warping, cracking and rotting when using timber outdoors. Rest assured that you are investing in a product designed to withstand and built to last.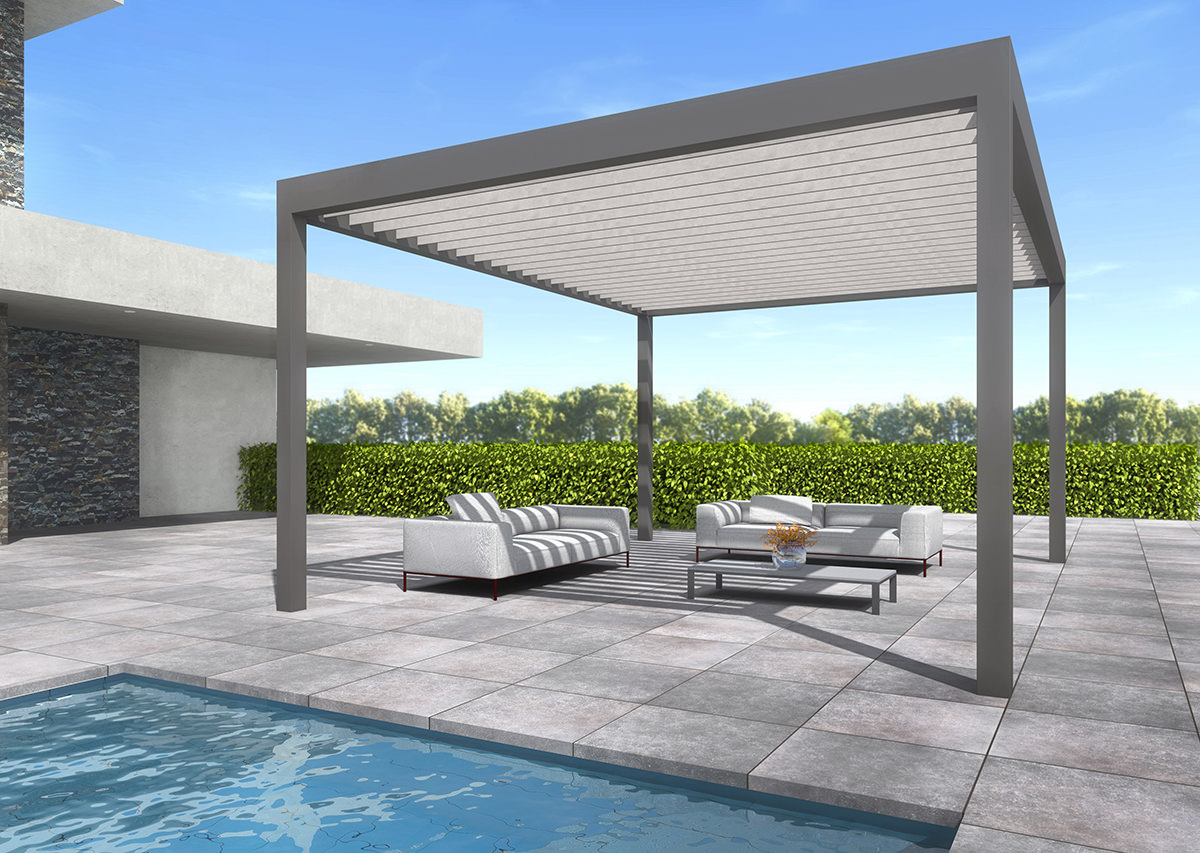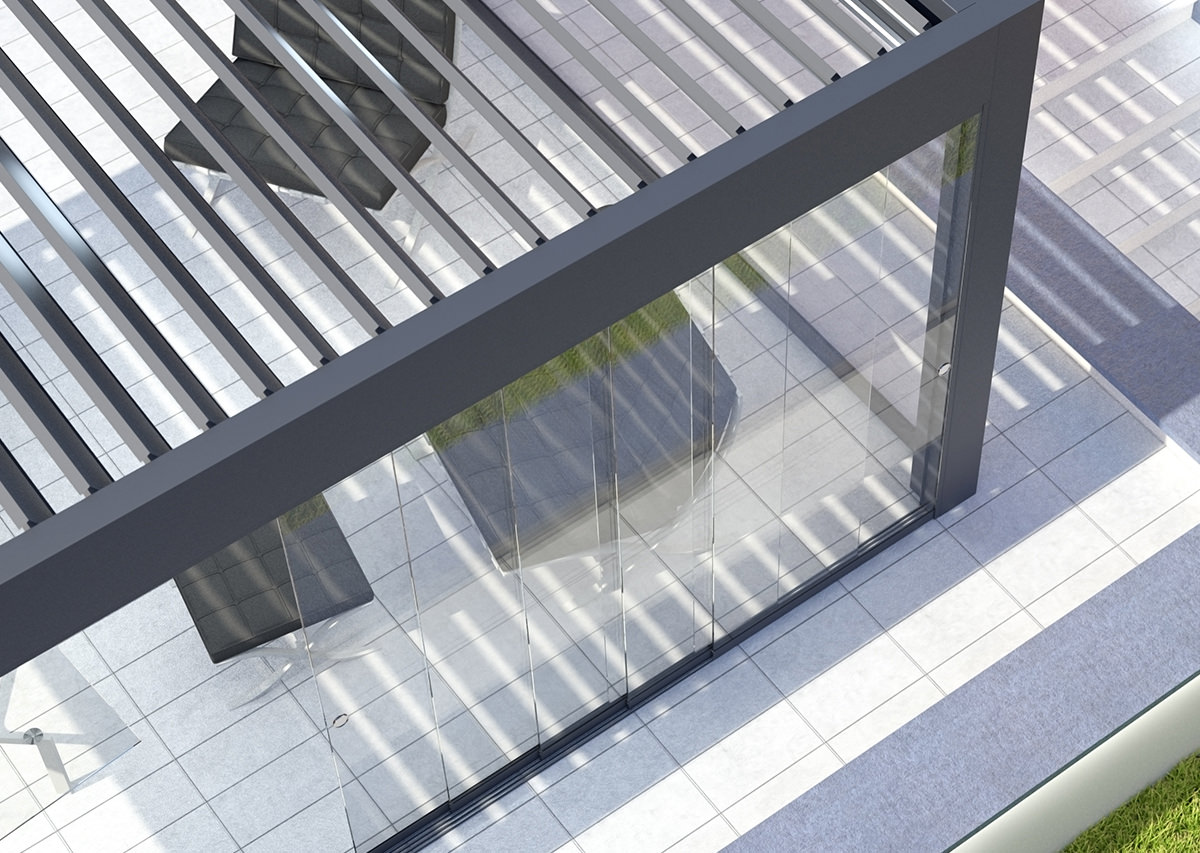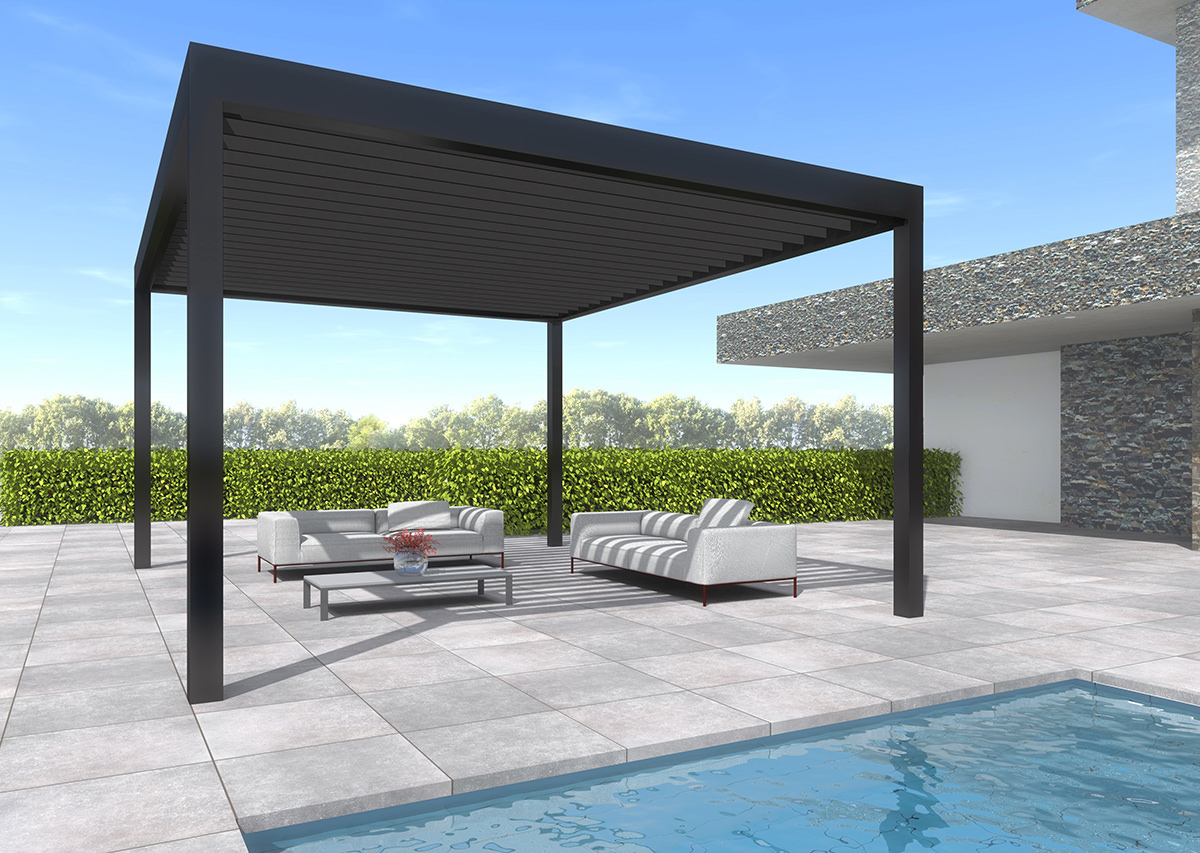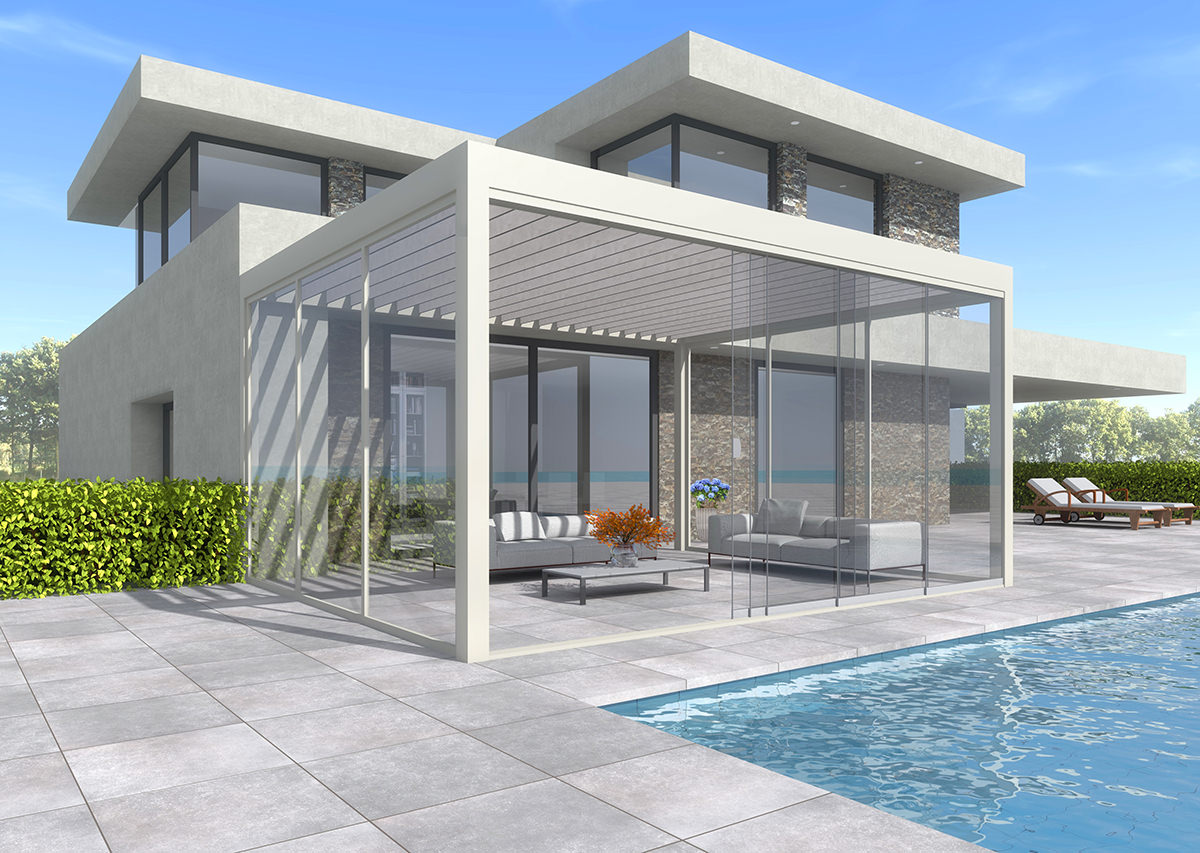 Year-Round Performance
With the option of integrated glass doors, glass walls, LED lights, privacy blinds and radiant heaters, these pergolas can be comfortably used throughout the evening and into the cooler months of the year. When summer comes around, the unique bioclimatic roof can be opened up to provide ventilation whilst still shading your outdoor living space, ensuring the temperature stays enjoyable. We'll be happy to assist you in designing an outdoor living space that truly performs, no matter the season.
Modern Appeal
Capturing a slim and stylish look, our pergolas will be an outstanding addition to any contemporary home, with the flexibility to tailor the finished space to your personal taste. The bespoke design and vast range of finishes also make our pergola ideal for bringing a modern flair to a more traditional house, allowing you to choose colours, components and even lighting hues which pick out existing elements of your property, while still making a bold statement.
Additional Features
To help you create the definitive modern pergola, we offer a huge choice of options and extras. This includes glass sliding doors, glass walls, white LED spot lights, both white and RBG LED strip lights, stylish patio heaters, rain sensors, Bluetooth and Wi-Fi modules and remote-controlled privacy blinds. Each and any of these features can be integrated into to your new pergola straight from our factory, creating exactly the level of comfort, performance and practicality that you desire, without the need to worry about the compatibility issues that come with aftermarket add-ons.
Customisable Options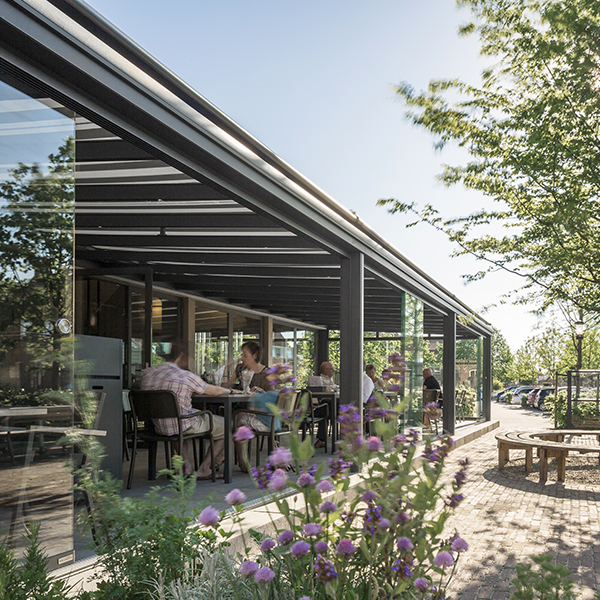 Glass Sliding Doors
Beautifully transparent full-glass sliding doors allowing you to open up one or more sides of your veranda/pergola. Slim frame, powder coated to match your veranda/pergola. Available in up to 5 tracks for maximum clear area. Locking handles for increased security and clear weather-seals for improved airtightness also available.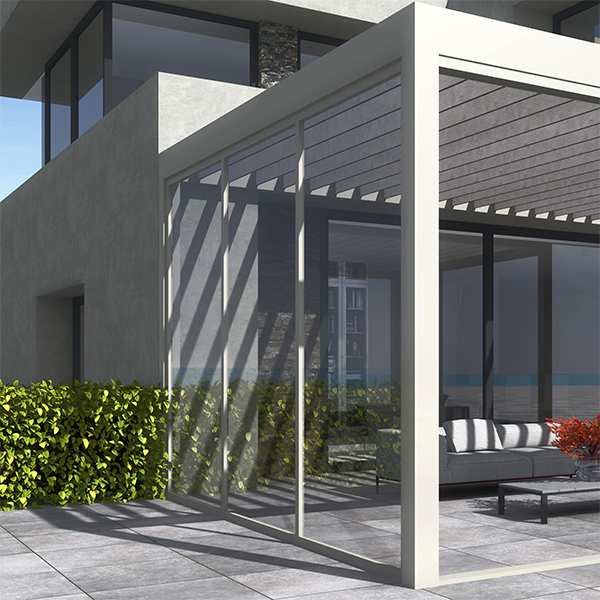 Glass Walls
Glass walls to close off one or more sides of your veranda/pergola without spoiling the view. Slim frame, powder coated to match your veranda/pergola. Available with aluminium mullions for better airtightness and stability or glass-to-glass joins for the ultimate in clear, unobstructed views. The glass can be optionally back-painted, heated, solar coated or switchable.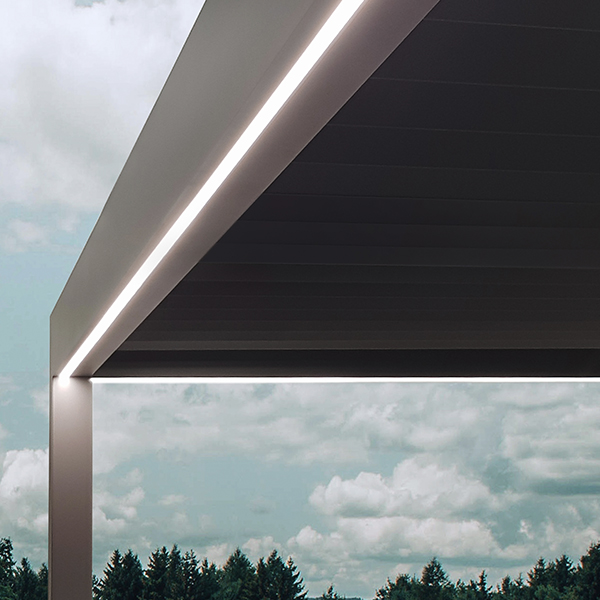 LED Strip Lights
A continuous strip of highly efficient, dimmable LED light with integrated diffuser for a sharp, modern look. Can be applied to all four sides of your pergola. Available in classic warm white or custom-configurable RGB and can be operated by remote-control, or by smartphone app with the optional Bluetooth module.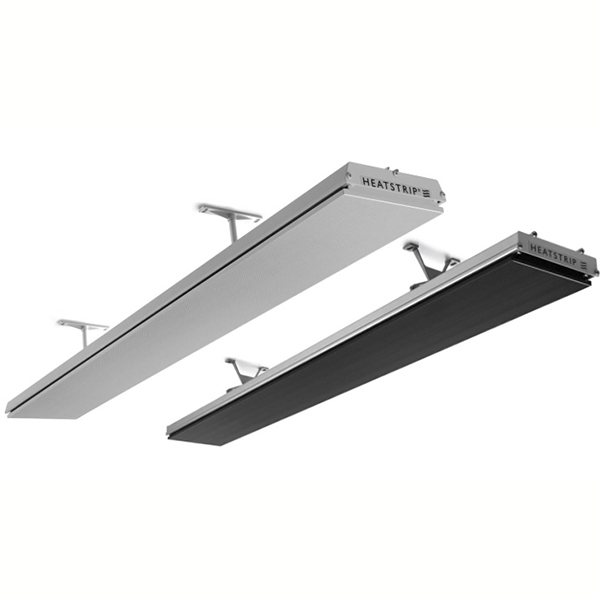 Heatstrips
Modern, elegant electric strip heaters designed and weathersealed for outdoor use. Produce a radiant heat with zero orange glow, which heats people and surfaces rather that the air and so are suitable even for open-sided verandas and pergolas. Available in both light and dark finishes and a range of wattages to suit all needs.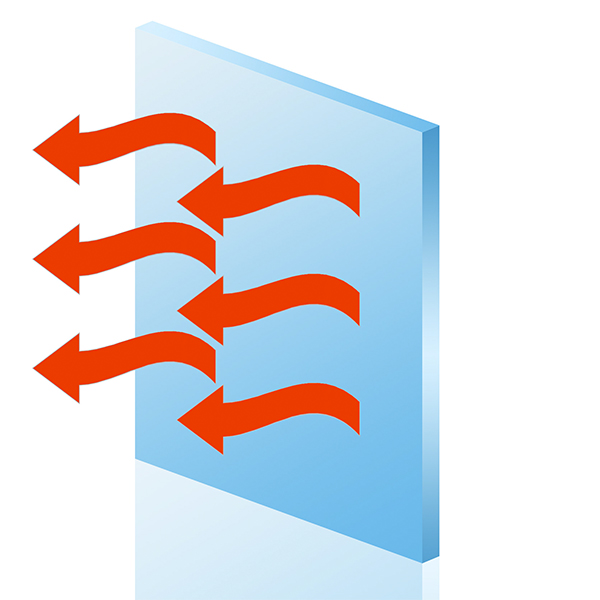 Heated Glass
Glass produced with a completely clear thermal film which transforms the entire pane into a transparent electric heater. Heats your garden room in an efficient way and ensures glass walls, and roofs are kept clear and condensation free. A beautifully minimal and extremely practical heating solution. Can be integrated into most of our glazed products and is available in a range of wattages which we can assist you in specifying based on a range of factors such as floor area and intended use.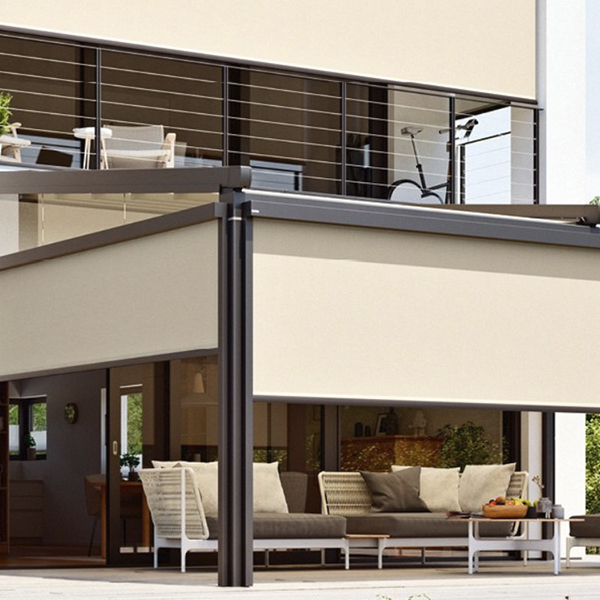 Vertical Blinds
Robust, motorised external blinds from the leading German manufacturer which create privacy and shield your garden room from the wind, without blocking out all light. Blinds are tensioned to withstand high wind pressures and the wide range of available fabrics are designed with durability in mind. Can be integrated into any of our verandas or pergolas with their slim casing powder-coated to match. Operated by remote control, and can also be integrated with home-automation systems and smartphones with the optional smart module.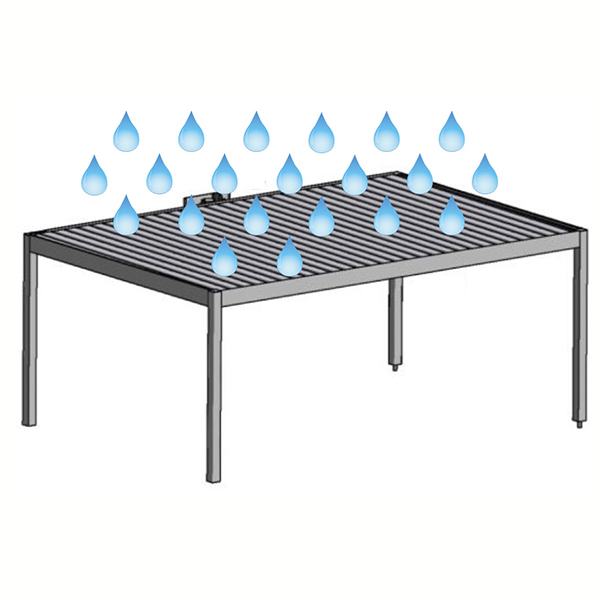 Rain Sensor
Closes the roof of your pergola when it detects rain to ensure your furniture and anything else underneath stays dry.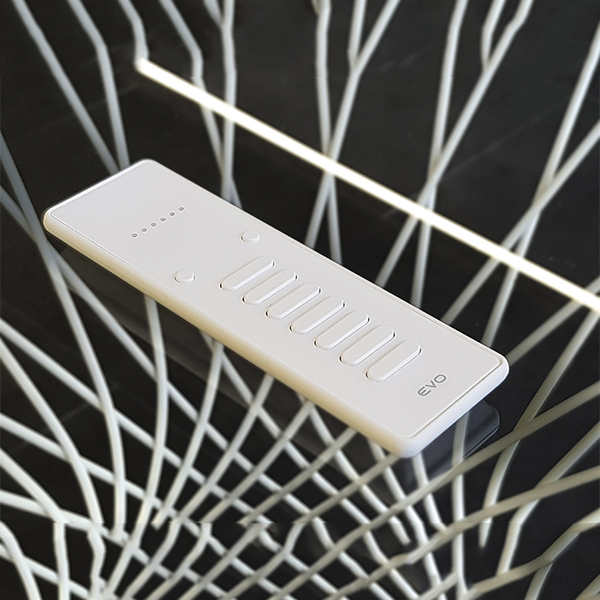 Remote Control
Optional remote control for your veranda which operates and dims the LED spot lighting. Included remote control for your pergola which opens/closes/adjust the roof blades, and can also operate and control the optional LED strip lighting if installed.
Colour Options
Our Pergolas and Verandas are available in over 100 different custom RAL colours, as well as the standard colour options.
Please note, colours may appear differently on your particular device screen. Images are for reference only.
FAQs
What is the difference between a Pergola and a Veranda?
A pergola and a veranda are both outdoor structures that provide shade and shelter from the elements, but they differ in several ways. A pergola is a freestanding or attached outdoor structure with a roof with moveable/tilting blades that is supported by posts or columns.
A veranda, on the other hand, is a covered outdoor structure that is attached to the side of a building, typically the house. It has a fixed glass sloping roof that extends from the building and is supported by columns or posts. It provides complete shade and protection from the elements, making it ideal for outdoor dining, entertaining, or as an extension of indoor living space.
What is the maximum size for a Pergola?
The maximum size we can supply is 6m x 4m x 3 m in height. Our expert team can help determine the appropriate size and design to suit your needs while ensuring the pergola's safety and stability.
Can you supply Pergolas in any RAL colour?
Yes, we offer a stunning range of RAL colours for you to choose from at a minimal upcharge.
Can I install the pergola myself?
You should consult a professional installer to ensure the job is done safely and correctly.
What are delivery times and installation times?
Our delivery time for pergolas is approximately 8-10 weeks from receipt of the deposit and survey. Our expert installers will install your brand new pergola in just two days.
Can I have fixed metal or wood slatted sides with pergolas?
No, we only supply fixed glass, sliding glass doors or blinds.
Can pergolas be free standing?
Yes, pergolas can be freestanding structures. In fact, many pergolas are designed to be freestanding, meaning they are not attached to a house or other building. Freestanding pergolas are typically supported by four posts and can be placed anywhere in a garden or outdoor space. They can be used to create a shaded seating area, a covered walkway, or even as an architectural feature to add interest and style to a garden.
Can pergolas have side panels?
Yes, pergolas can have side panels installed. Side panels can provide additional protection from the elements and privacy and enhance the pergola's aesthetics. We offer glass side panels for you to enjoy unobstructed views.
Need a Quote?
Get in touch with us today to discover more about our range of products. A member of our friendly team will be happy to discuss your requirements and construct a complete quotation based on your exact specifications.
Request a Quote