Pergolas London
At Better Outdoors, we offer a wide range of pergolas and verandas to residents in London and across the UK. Our bioclimatic pergolas are the ideal outdoor living solution, shielding you from the sun, rain, and snow throughout the day. These modern pergolas are distinguished by the remote controlled motorised louvres installed on their exterior structures.
You can adjust the amount of sunlight entering your pergola by angling the motorised blades or louvres. It also means you can close them when it rains to prevent your space from getting wet, giving you complete control over the weather. This is coupled with concealed drainage to prevent water from pooling in your outdoor living area.
With our pergolas, you can always enjoy your garden, regardless of the weather. In addition, the blades can be angled to allow for a gentle breeze. These sturdy aluminium pergolas will give your property a stylish and comfortable outdoor living solution that will revolutionise your perception of outdoor living. Get in touch with our team today for a free price estimate.
Customisable Pergolas in London
We enable our customers to create and enjoy unique spaces. When homeowners and professionals in London choose Better Outdoors, the possibilities are limitless. We offer various colour options and customisable features, including glazed doors and walls, LED strip lighting, and even a rain sensor. This allows us to provide you with a bioclimatic pergola tailored to UK's climate and ensures the thermal comfort of the residents.
Key Features
Quick Installation
Our pergolas are designed ingeniously for speedy and straightforward installation. This means your London property will experience minimal disruption, and your new modern pergola will be installed expeditiously. Our designs allow them to be easily transported and manoeuvred through tighter spaces prior to assembly in your garden or patio. For more information on our outdoor installation services, email us at sales@betteroutdoors.com or call us directly at 01923 932 492, and our friendly team members will be happy to help you in your home improvement journey.
Premium Grade Aluminium
We offer robust aluminium pergolas at Better Outdoors that are crafted from high quality materials and benefit from a finish that architects appreciate. The aluminium pergola structure is vastly superior to those made from alternative materials. Unlike uPVC, our systems are resistant to UV degradation and warping and do not rust like steel structures. Better Outdoors is the company to contact for aluminium pergolas with a long lifespan.
Suitable for All Spaces
Not only are our pergolas easy to transport and install, but also they are available in various sizes to accommodate your outdoor space. Our configuration options range from designs with 11 roof blades and a width of 2532mm to designs with 28 roof blades and a maximum width span of 6000mm. This has room for expansion. We can build a 60 metre tall structure using intermediate posts! We can also design your motorised roof with a suspended or cantilevered roof to help you save space.
Customisable Options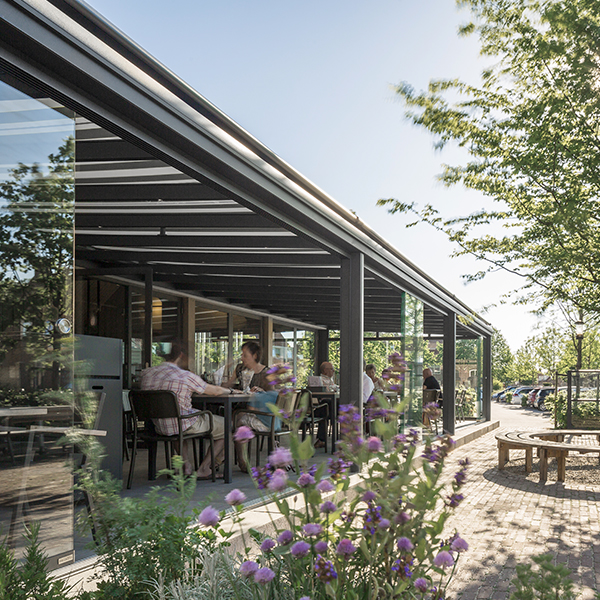 Glass Sliding Doors
You can open up one or more sides of your bioclimatic pergola using the aesthetically pleasing sliding glass door. The slim frame is powder coated to match the colour scheme and is offered with up to five viewing tracks for optimal visibility. Locking door handles and clear weather seals keep the unpredictable London climate out of your extension.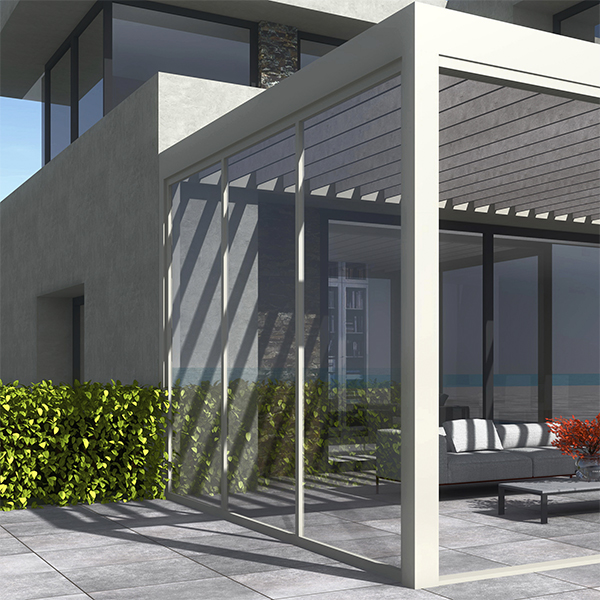 Glass Walls
Glass walls ensure you enjoy unobstructed views from one or more sides of your bioclimatic pergola. The slim frame is powder coated to complement the current design. Available with aluminium mullions for improved airtightness and structural integrity or glass to glass joints for the clearest garden views. To meet your needs, the glass can be back painted, heated, solar coated, or switchable.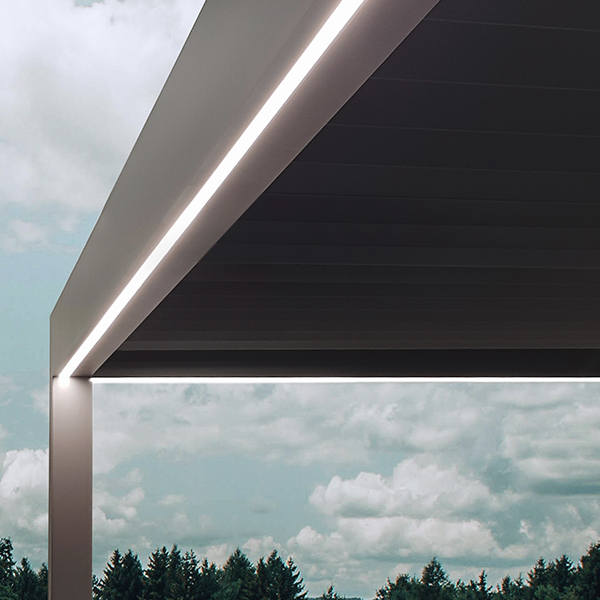 LED Strip Lights
A continuous strip of highly efficient, dimmable LED light with a diffuser for a sleek, contemporary appearance. These lights can be installed on all four sides of a pergola and are available in either warm white or RGB. You can control your lights with a remote, smartphone app, or Bluetooth module as an option. Our LED lights for the pergola are available if there is no requirement for glass side panels / doors as it is mounted on the same frame.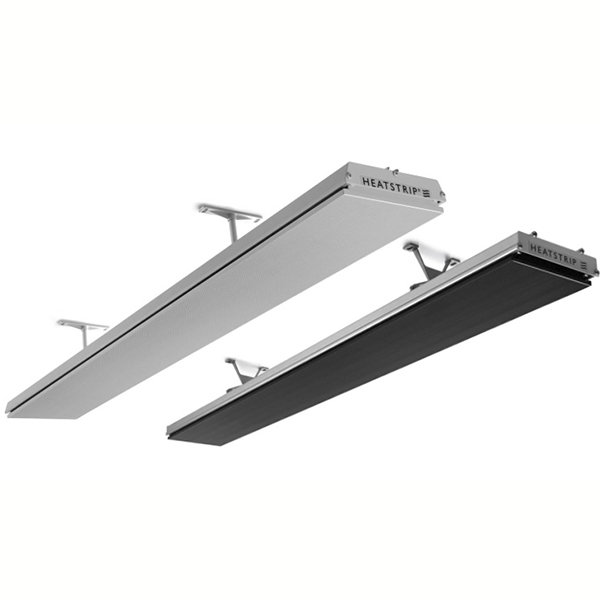 Heatstrips
Modern electric strip heaters are constructed and sealed for outdoor use. It generates radiant heat with no orange glow, heating people and surfaces rather than the air, making it suitable for modern bioclimatic pergolas with open sides. Available in a variety of finishes and wattages to suit all needs, including light and dark.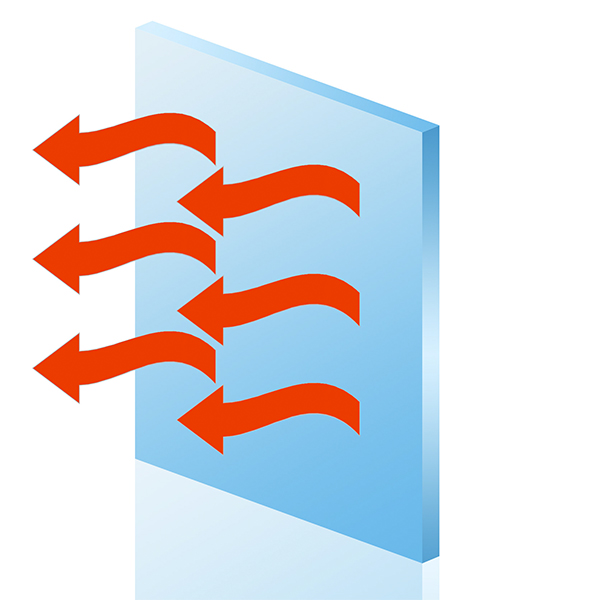 Heated Glass
Our glass is manufactured with a transparent thermal film that transforms the entire pane into a completely transparent electric heater. Your bioclimatic pergola will be heated efficiently, preventing condensation from forming on the glass walls and roof. This beautiful, minimal, and practical heating solution is offered in various wattages to meet your needs precisely.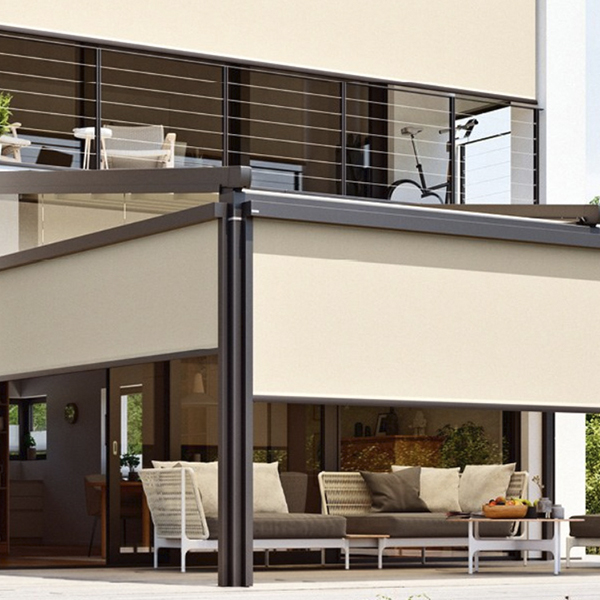 Vertical Blinds
We offer robust, motorised vertical blinds from a leading German manufacturer to provide privacy and wind protection for your Bioclimatic Pergola without obstructing all light. Blinds are tensioned to withstand high wind pressures, and the available fabrics are designed for longevity. The optional smart module enables remote control operation and integration with home automation systems and smartphones.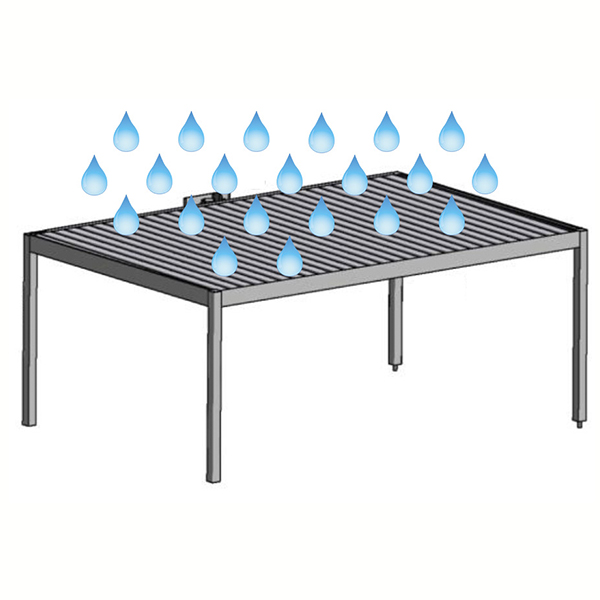 Rain Sensor
When rain is detected, the rain sensor closes the roof of your bioclimatic pergola to keep your furniture and extension safe and dry. Our rain sensors mechanism takes around 4-5 hours to reset due to the mechanism, and the blades will not be openable till then.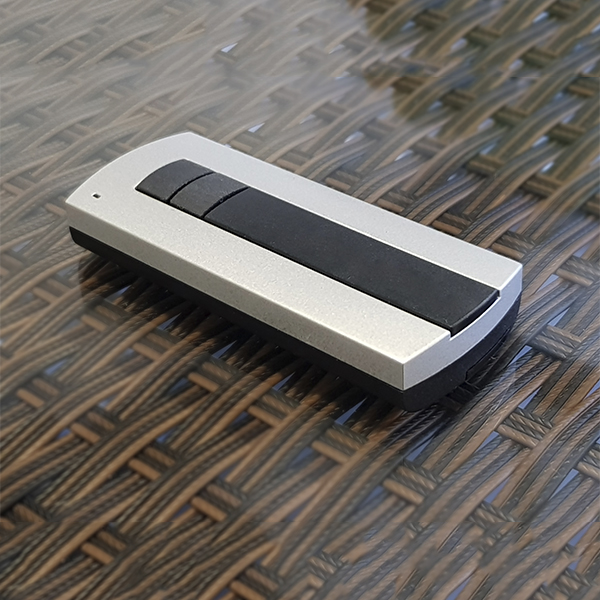 Remote Control
The optional remote opens, closes, and adjusts the roof blades of your bioclimatic pergola and can operate and control the optional LED strip lighting if installed.
Colour Options
Our Pergolas and Verandas are available in over 100 different custom RAL colours, as well as the standard colour options.
Please note, colours may appear differently on your particular device screen. Images are for reference only.
Pergola Prices, London
Our prices for pergolas in London are highly competitive. With the quality and durability of our systems, we provide exceptional value. You can design your pergola with or without our wonderful accessories using our online quoting engine. Numerous options are available, including glazing, custom RAL colours, rain sensors, and Bluetooth interfaces.
You can also specify the number of walls or sliding doors you desire on each side of your system, and they can be installed with or without mullions.
Start your free online quote if you are looking for the ideal modern pergola for your outdoor project.
Need a Quote?
Get in touch with us today to discover more about our range of products. A member of our friendly team will be happy to discuss your requirements and construct a complete quotation based on your exact specifications.
Request a Quote