Garden pergolas the perfect solution for anyone in London and the UK wanting to redefine their outdoor living space and modernise their home with a bespoke structure that you can enjoy throughout the year. The freestanding design of our garden pergolas allows them to be installed anywhere within your exterior surroundings, creating a luxury detached relaxation spot just for you. Additionally, you have the option to attach a pergola to your existing property, extending the overall living space of your London or UK home.
Manufactured using modern materials and techniques, our garden bioclimatic pergolas are powered using a high performance remote controlled motorised blade system that is integrated into the roof of the structure. This allows you to easily adjust the design for ventilation, solar shading illumination and rainfall to suit any climate the UK weather has to offer. The garden pergola's high-performance and robust frame guarantees you a structure that will stand the test of time, lasting you for many years without compromising on the contemporary and sleek design it offers.
Create an outdoor living space that is unique to you and your tastes. Our garden pergolas are designed with you in mind, allowing you to customise and make additions to the aesthetics of your bioclimatic pergola for your London or UK home. Choose from a combination of sliding doors, glass walls, radiant heaters, LED lighting and privacy blinds to generate a bespoke garden pergola that suits your style and caters to your outdoor living space needs.
If you are wondering what you can use your new garden space for, we have come up with 6 unique pergola ideas that will inspire you.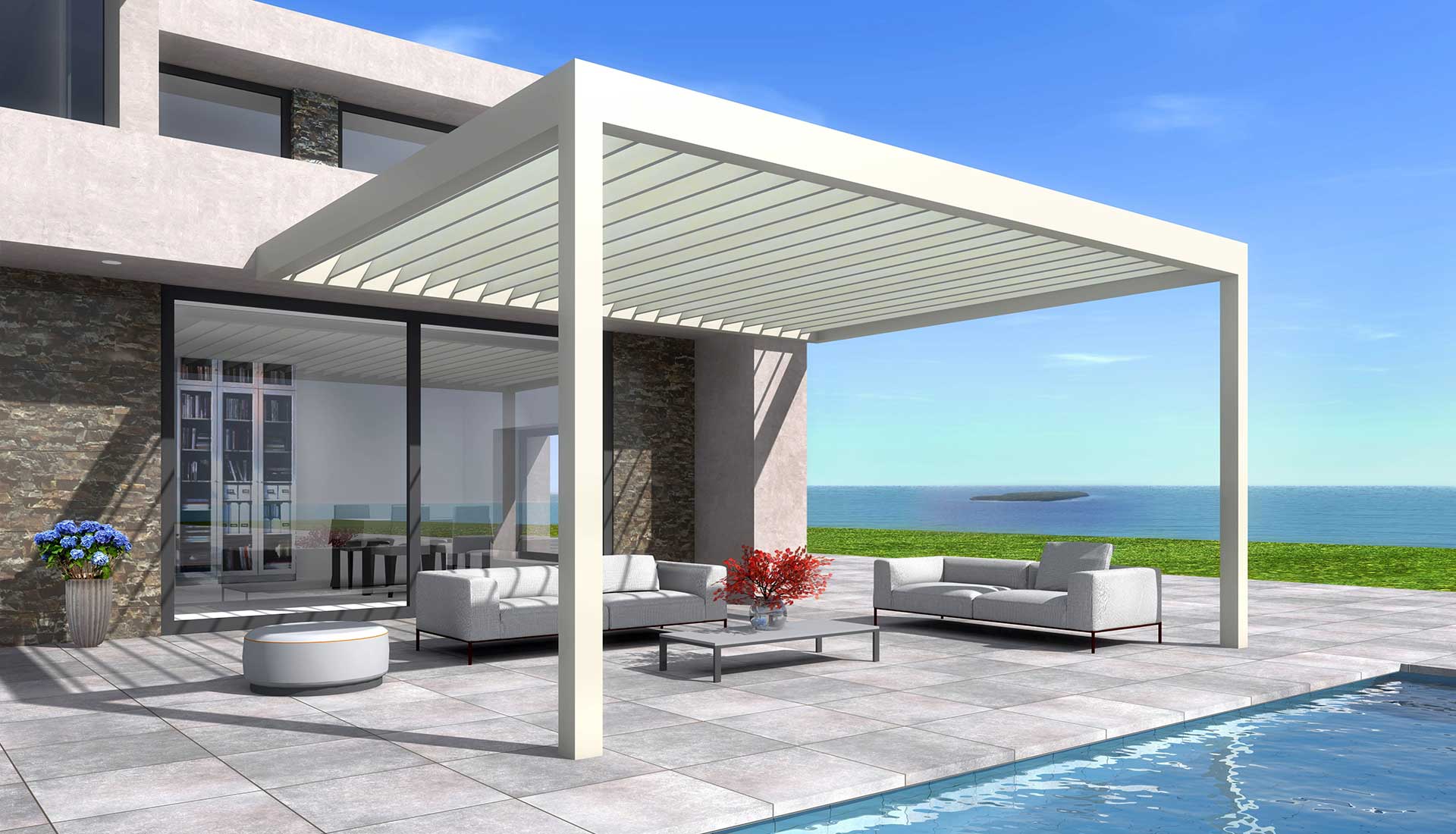 Full Aluminium Construction
Our garden pergolas are manufactured using aluminium, an incredibly robust and sturdy material. Creating a pergola made entirely of aluminium will provide your UK or London home with a structure that is inherently durable in its form. Combined with unique functions and beautiful design, our aluminium garden pergolas are the perfect sturdy solution. Aluminium is the only material to use to go above and beyond and fit in with modern demands.
Large Span (Up to 6 Metres)
Able to accommodate a wider area due to their structural integrity, a garden pergola has a maximum span of up to 6 metres, making them the perfect solution to fit any sized London or UK property. The larger the coverage area, the greater variety of purposes our garden pergolas have to offer. The added features and customisations will give it the 'wow' factor you have been hoping for.
Motorised, Remote Control Roof Blades
Whether you want complete coverage of your London outdoor living space or heightened ventilation in certain climates, our garden pergolas are designed with motorised roof blades to accommodate. To make things more convenient for you, the roof blades can be operated via a remote-control system with the added feature of a rains sensor that allows the roof to close automatically.
Optional Bluetooth Module
The garden pergolas have the option to be installed with an optional Bluetooth module. This will allow you to control the roof blades of your London pergola with either a mobile phone or tablet, giving you the option to respond to changing climates and weather conditions quickly. Offering the best in modern technology, our garden pergolas are a convenient and worthwhile investment for any UK home.
Key Features
Colour Choice
All garden pergolas come with a durable polyester powder coating. Choose from a range of 7 selected colours, including an array of white, grey and black shades as well as a mixture of matte, metallic and gloss finishes. These specific colours and finishes have been chosen to complement the modern and sleek characteristics of the garden pergola design. Additionally, you can also choose from over 100+ RAL colours and two different shades for the roof blades and framework if you have a specific look in mind for your London pergola.
Prompt Installation
To save time on the installation process and minimise disruption to your daily schedule, our garden pergolas are designed and manufactured to be installed in a timely and efficient way. They can be manipulated through tighter spaces and transported through smaller vehicles allowing them to be installed in a variety of properties in different locations. This helps to overcome access issues that can be common with period properties, giving people all over London and the rest of the UK the opportunity to install a garden pergola without compromising on quality.
Made to Last
Outclassing any uPVC or timber alternatives, our premium-grade aluminium garden pergola offers an excellent lifespan with little maintenance required from yourself. Using aluminium as the predominant material of your garden pergola is perfect for any exposed location located in London and throughout the UK. It eliminates the risk of warping, cracking and rotting that is common with timber, rusting that comes with steel and UV degradation that is associated with uPVC. You will be investing in a garden pergola that is built to last.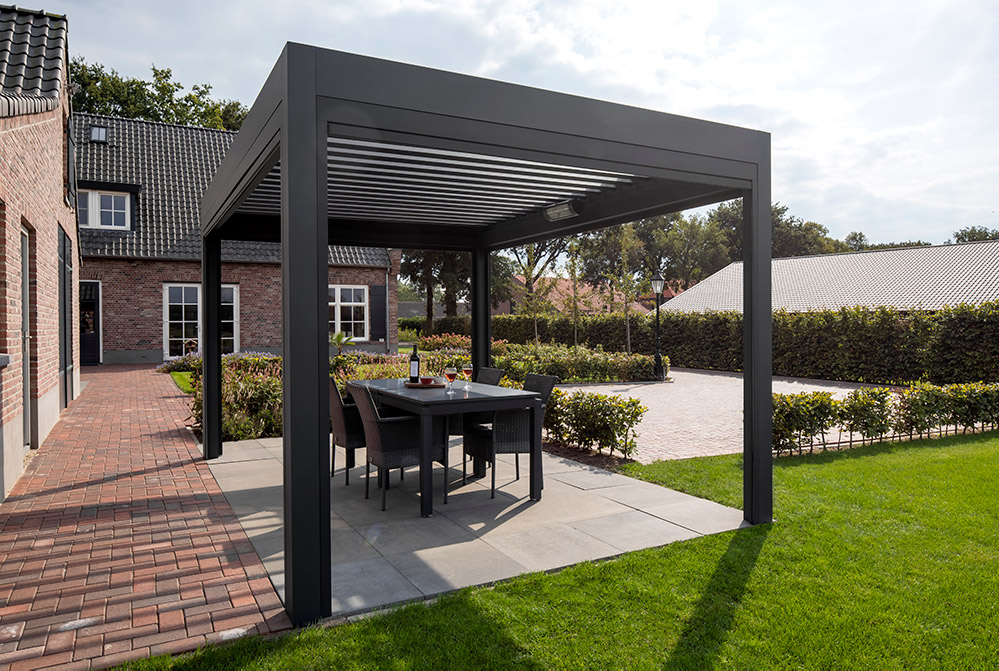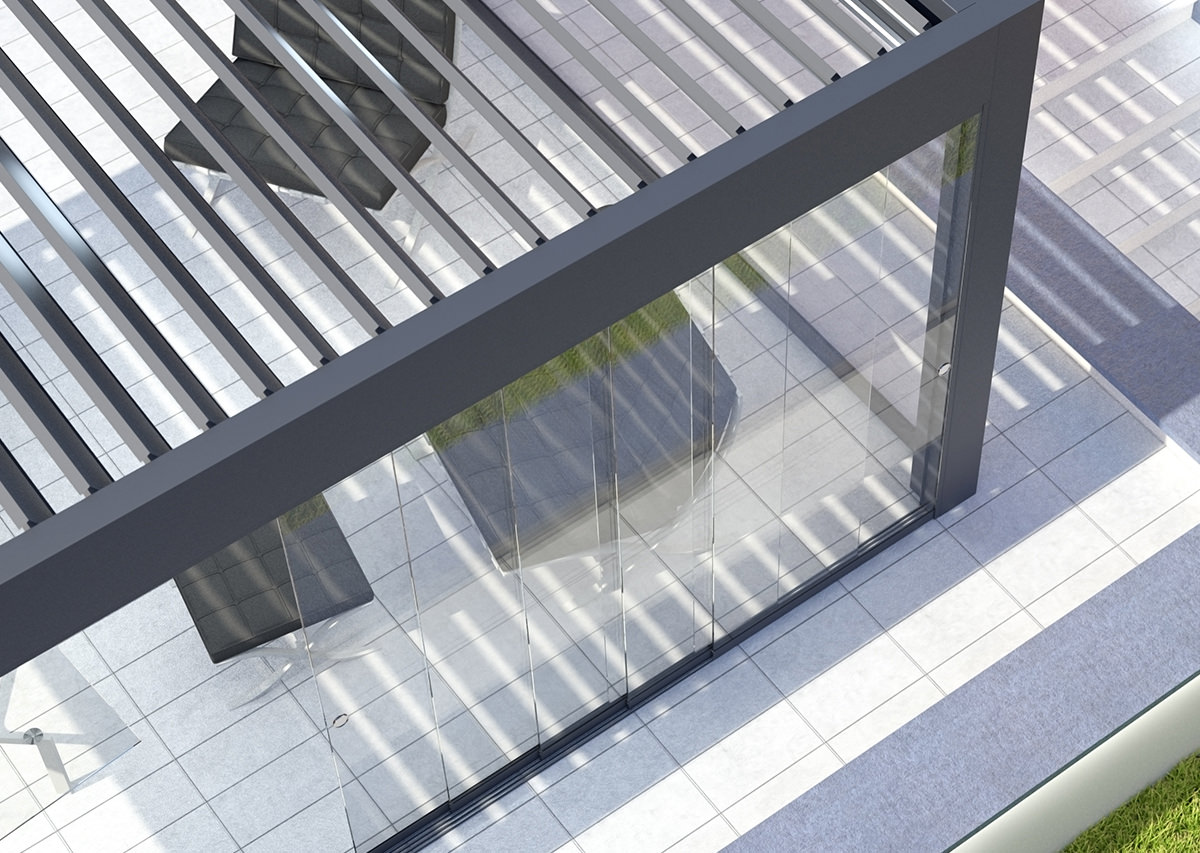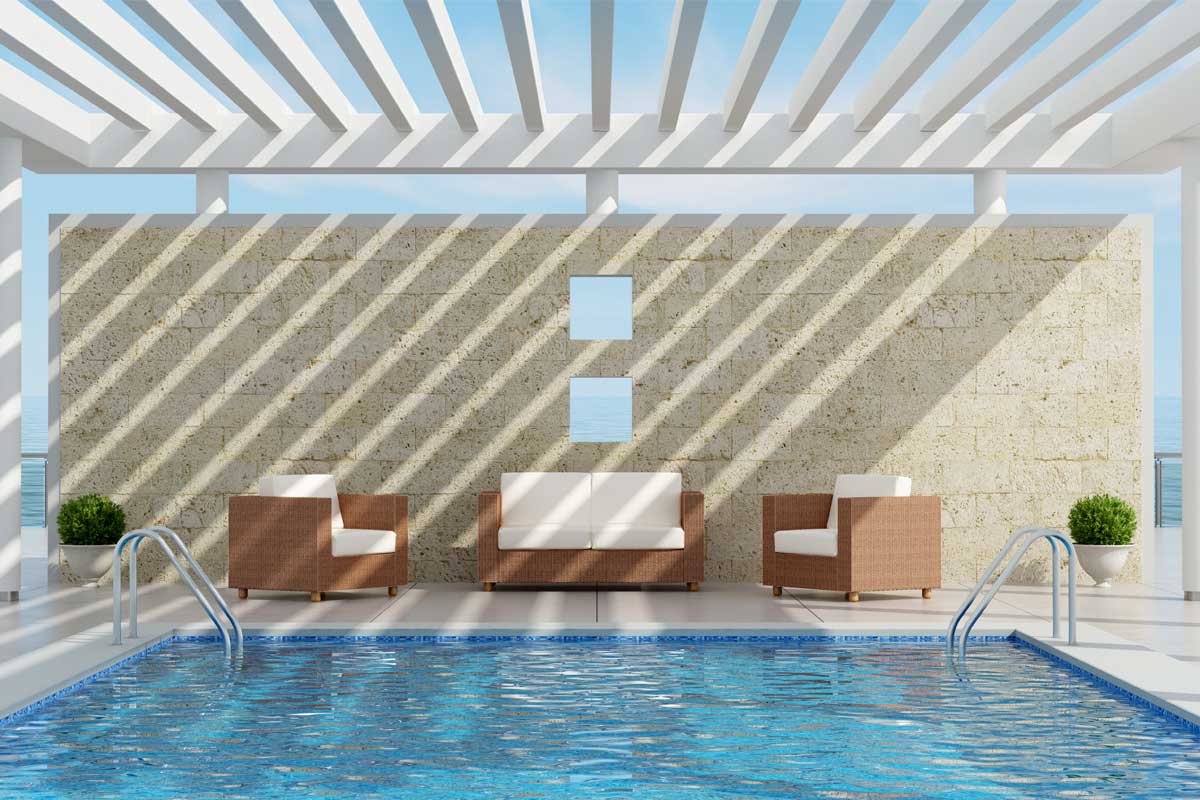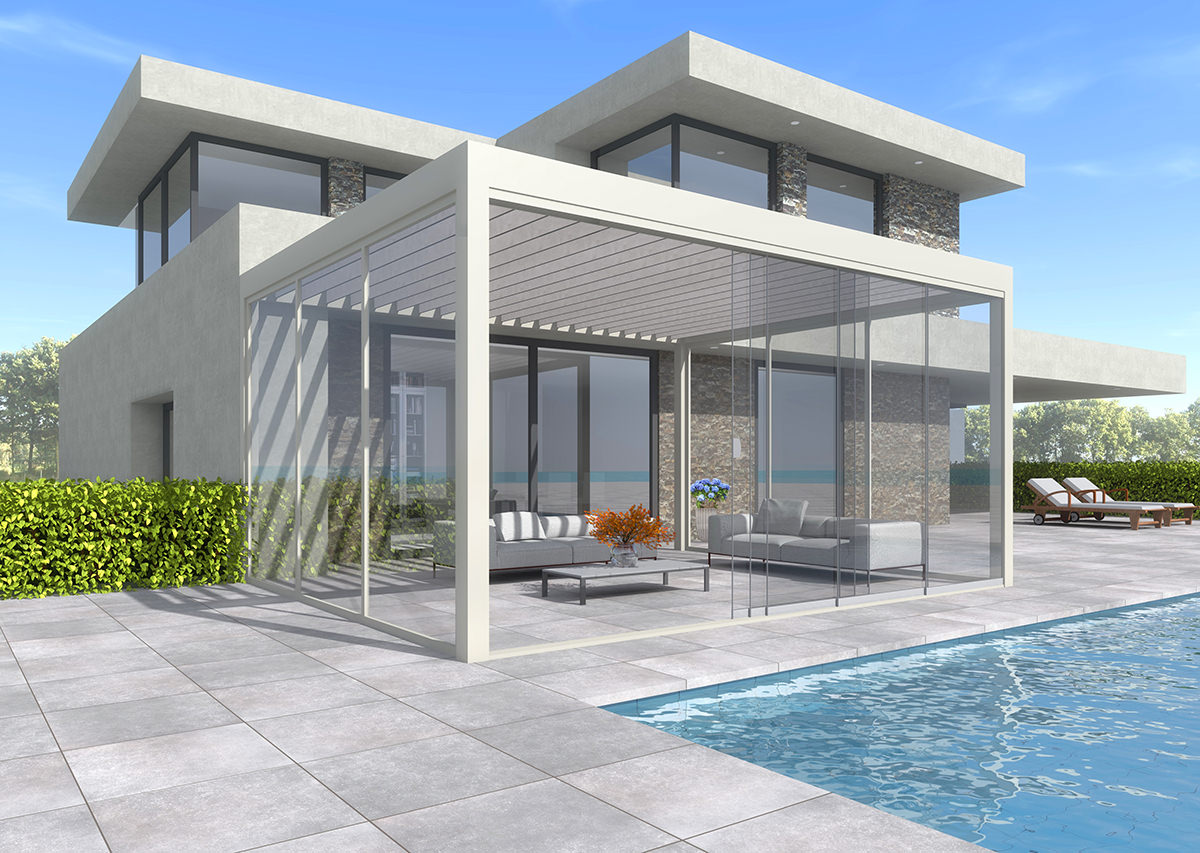 Do I Need Planning Permission For A Garden Pergola?
Planning permission for aluminium garden pergolas is sometimes required and entirely depend on several factors. Some of these factors include whether there will be raised platforms within the construction, the height and width specifications and total area covered by your new garden pergola.
If you live in an apartment, flat, listed building or anywhere within a conservation area, you will require planning permission for a pergola structure. If you're unsure about whether you need planning permission for your UK home, we will let you know. You can also get in touch with your local planning department
Are Garden Pergolas Thermally Efficient?
Constructed with aluminium and the option make customisable additions including heated glass and electric strip heaters, our garden pergolas will provide your outdoor living space with excellent levels of insulation and thermal performance. During the coldest months of the year, you can enjoy your garden pergola, without the worry of the cooler temperatures creeping in.
Do Pergolas Completely Block Sunlight?
The motorised roof blade system allows you to control the amount of sunlight that is let into your garden pergola. Even when the roof is fully closed, your bespoke pergola will still allow light into your outdoor living space, merely shading you from the bright rays of the sun. You have the option to add vertical blinds to each side of your pergola, which again will shield the interiors of your garden pergola without completely blocking out all light.
Customisable Options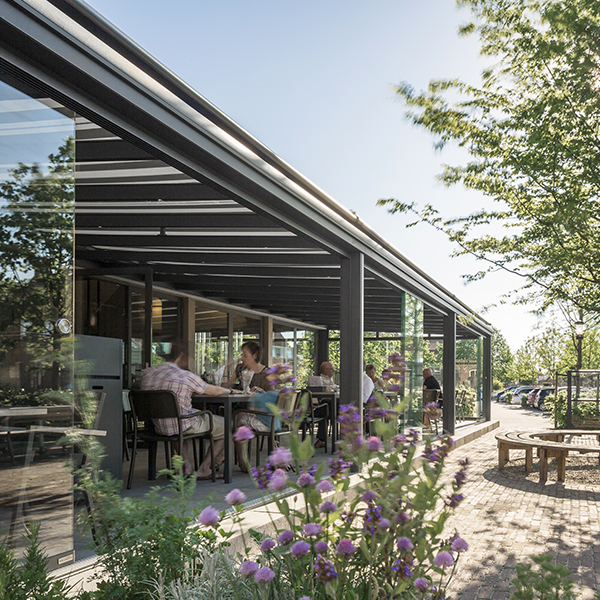 Glass Sliding Doors
Beautifully transparent full-glass sliding doors allowing you to open up one or more sides of your veranda/pergola. Slim frame, powder coated to match your veranda/pergola. Available in up to 5 tracks for maximum clear area. Locking handles for increased security and clear weather-seals for improved airtightness also available.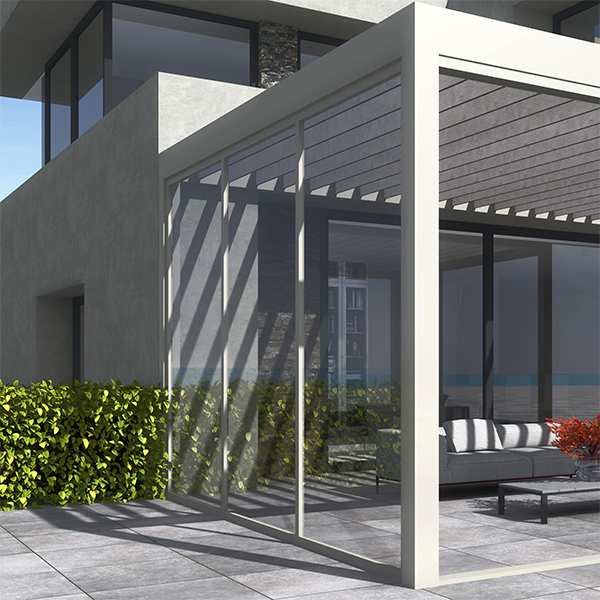 Glass Walls
Glass walls to close off one or more sides of your veranda/pergola without spoiling the view. Slim frame, powder coated to match your veranda/pergola. Available with aluminium mullions for better airtightness and stability or glass-to-glass joins for the ultimate in clear, unobstructed views. The glass can be optionally back-painted, heated, solar coated or switchable.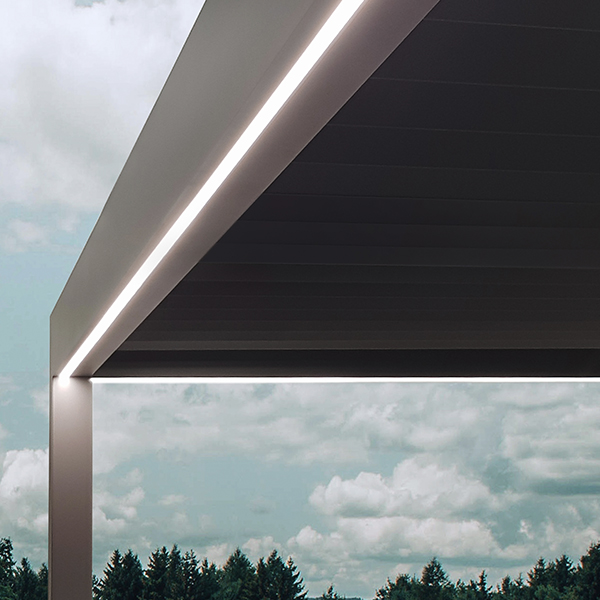 LED Strip Lights
A continuous strip of highly efficient, dimmable LED light with integrated diffuser for a sharp, modern look. Can be applied to all four sides of your pergola. Available in classic warm white or custom-configurable RGB and can be operated by remote-control, or by smartphone app with the optional Bluetooth module.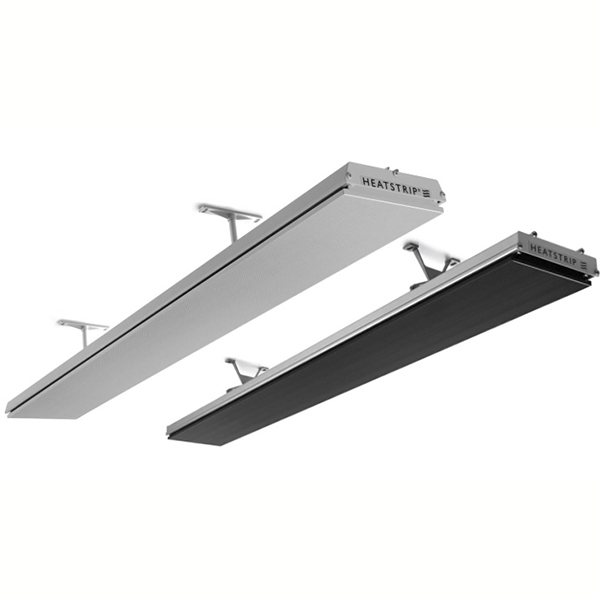 Heatstrips
Modern, elegant electric strip heaters designed and weathersealed for outdoor use. Produce a radiant heat with zero orange glow, which heats people and surfaces rather that the air and so are suitable even for open-sided verandas and pergolas. Available in both light and dark finishes and a range of wattages to suit all needs.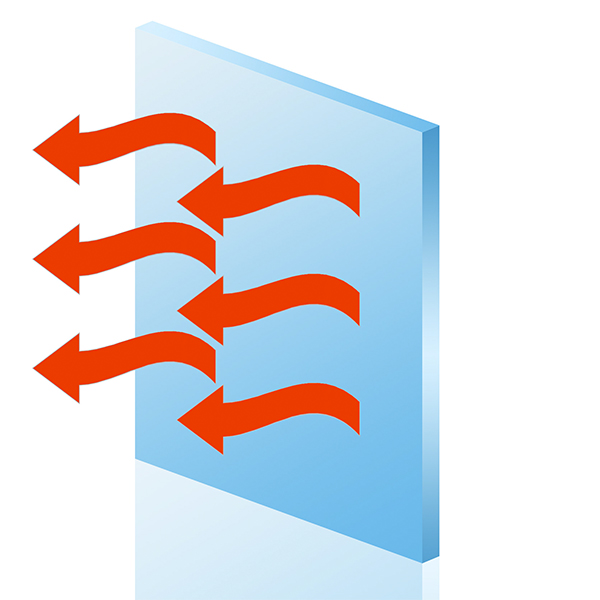 Heated Glass
Glass produced with a completely clear thermal film which transforms the entire pane into a transparent electric heater. Heats your garden room in an efficient way and ensures glass walls, and roofs are kept clear and condensation free. A beautifully minimal and extremely practical heating solution. Can be integrated into most of our glazed products and is available in a range of wattages which we can assist you in specifying based on a range of factors such as floor area and intended use.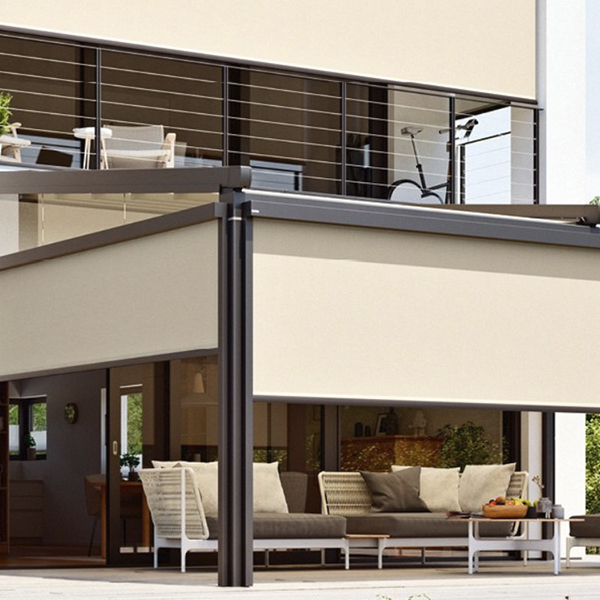 Vertical Blinds
Robust, motorised external blinds from the leading German manufacturer which create privacy and shield your garden room from the wind, without blocking out all light. Blinds are tensioned to withstand high wind pressures and the wide range of available fabrics are designed with durability in mind. Can be integrated into any of our verandas or pergolas with their slim casing powder-coated to match. Operated by remote control, and can also be integrated with home-automation systems and smartphones with the optional smart module.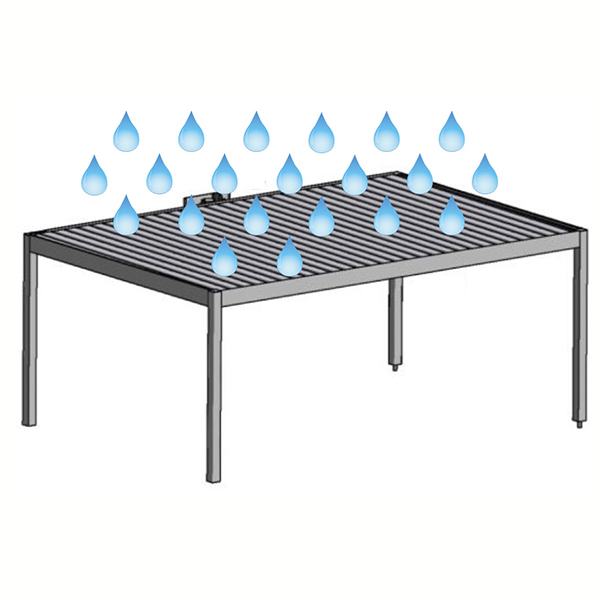 Rain Sensor
Closes the roof of your pergola when it detects rain to ensure your furniture and anything else underneath stays dry.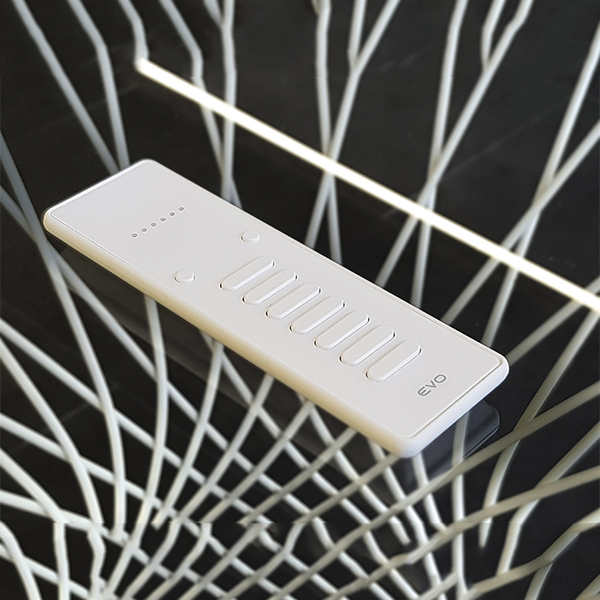 Remote Control
Optional remote control for your veranda which operates and dims the LED spot lighting. Included remote control for your pergola which opens/closes/adjust the roof blades, and can also operate and control the optional LED strip lighting if installed.
Colour Options
Our Pergolas and Verandas are available in over 100 different custom RAL colours, as well as the standard colour options.
Please note, colours may appear differently on your particular device screen. Images are for reference only.
Garden Pergolas Prices, London
Want to create the perfect garden room for a client or your own home? Here at Better Outdoors, we have a stunning range of garden pergolas in London that are competitively priced and affordable. All can be fully customised to match the existing architecture of the property.
We have an online quote engine that allows you to receive free, personalised quotes on your bespoke garden pergolas. Simply enter in your requirements and get a price within minutes.
If you'd prefer to speak to a member of our team, then you can give us a call on 01923 932 492 or send us your questions via our online contact form. We look forward to hearing from you.
Need a Quote?
Get in touch with us today to discover more about our range of products. A member of our friendly team will be happy to discuss your requirements and construct a complete quotation based on your exact specifications.
Request a Quote