Modern Verandas For Your London Home
If you're looking for a way to redefine your outdoor living area, then our aluminium verandas in London are the ideal way to create extra space that you can enjoy throughout the year. With our slimline verandas, you can create the perfect garden room that can be used for a variety of bespoke purposes.
Our range of customisations allows you to create the perfect garden room that matches the style of your London home at a competitive and affordable price. Whether you want to create the perfect winter room, or the ideal summer relaxation spot, our team at Better Outdoors can help bring your garden room designs to life.
Not only do our verandas in London look stunning, but they can also provide you with a stunning range of performance benefits that allow you to make the most of your new garden room throughout the year. The aluminium profile is inherently strong, so you needn't worry about your new garden room decaying or wearing down soon after installation.
Customisable Verandas in London
With an aluminium veranda from Better Outdoors, you have the option to tailor the design to suit your exact needs. This means you can be as bold as or subdued with the design of your new aluminium verandah. Choose from a range of bespoke colour options and a range of lighting, as well as glass walls and doors and create an extension to your home that is both modern and practical. Verandas differ to pergolas in that they are attached to an existing property. This allows you to extend your home and create the perfect home extension to suit the architecture of your property.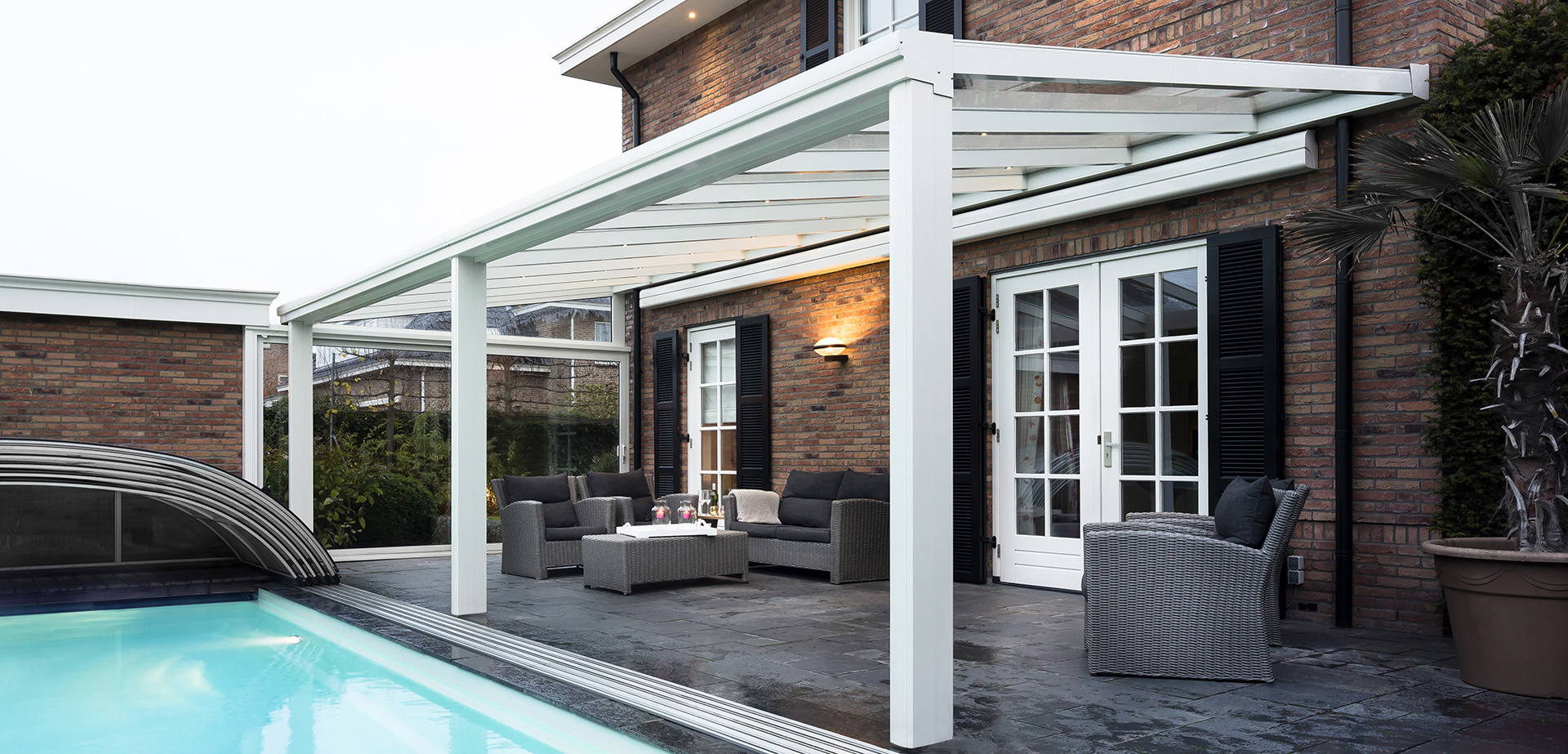 Versatile Profile
Whatever style of property you live in, our verandas in London can be custom designed to help utilise the space you have available. Whether you live in a large new build home or a period style property, our verandah solutions can be custom sized to suit your property.
Energy Efficient
If you're looking for a new veranda that you can comfortably use throughout the year, then we can provide you with a thermally efficient verandah that will keep your new outdoor living area warm and cosy during the colder months of the year. The optional heatstrips and heated glass walls allow you to heat your new veranda space efficiently.
Weatherproofed Design
By investing in a brand new aluminium veranda in London, you can enjoy a weatherproofed design that is resistant to damage from the harsher British climate. Aluminium is an inherently robust material that will protect your home and won't decay from long exposure to the natural elements. This means you don't have to worry about the frame warping, rotting, cracking or twisting out of shape.
A Selection of Styles
We have a range of verandah styles you can choose from, allowing to create a perfectly tailored garden room that you can use for a variety of bespoke purposes. Choose from a range of standard and bold colours. You can also incorporate speakers, blinds, LED lighting and a range of heating options into the new outdoor living space.
Key Features
Durable Verandas
Our verandas in London are manufactured using precision engineered aluminium. This means you can benefit from inherent strength and durability. With our garden room's you can trust that the profile will offer impressive longevity, leaving you with a new outdoor living area you can use for several years without the need to repair or replace the frame.
Simple Installation
We want you to be able to enjoy your new outdoor living area as soon as possible. Our aluminium verandahs have been designed in a way that makes them easy to install. You can expect minimal disruption to your daily schedule. The modern design allows the frame to be transported easily and positioned through even the smallest of spaces.
Bespoke Designs
Here at Better Outdoors, we offer four unique garden room styles. This includes slimline verandas, insulated verandahs, panoramic and panoramic plus verandah styles. All come with unique features and benefits, and can all be custom designed to suit your London home perfectly. Get in touch today for versatile veranda designs.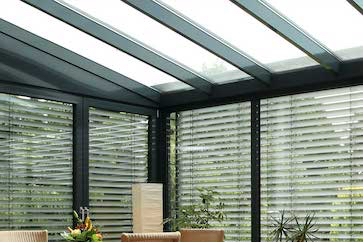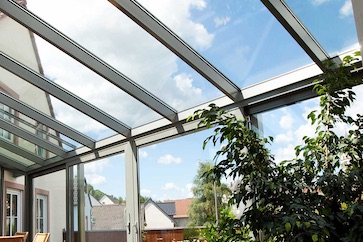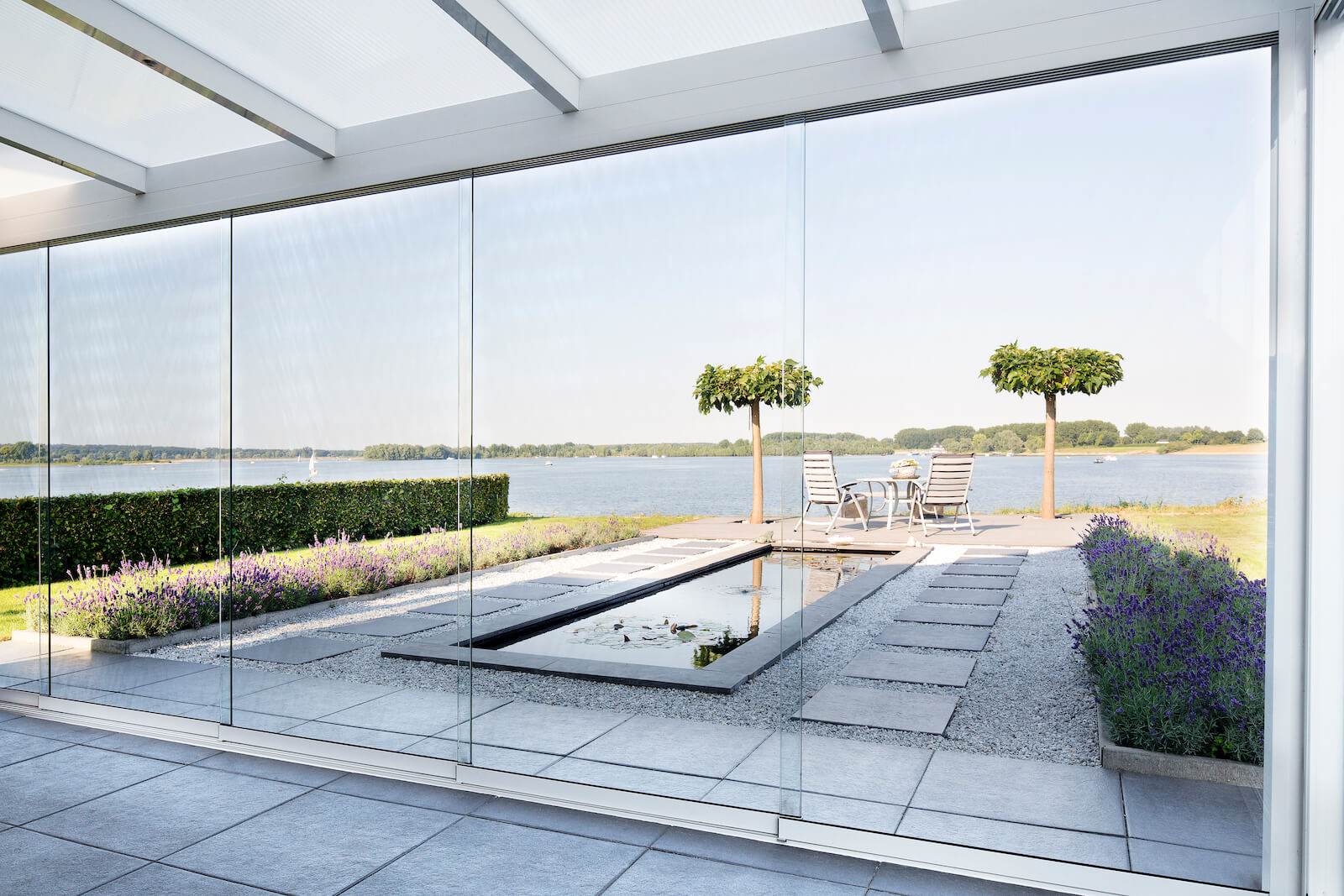 Are Verandas Durable?
Manufactured with precision engineered aluminium, you can trust that the aluminium verandahs, have been built to last and will stand the test of time. The unique powder coating will stop the colour of your verandas from fading, so you needn't worry about having to repaint the aluminium frame for several years.
What Can I Use A Veranda For?
There are a number of different purposes that an aluminium verandas in London can have. Whether you want to create a modern office space, a winter relaxation room, or the perfect yoga spot, our verandahs can be custom designed to suit the needs of every individual customer.
Do I Need Planning Permission For A Veranda?
If you live within a conservation area, listed building, flat or apartment, then you'll need to get planning permission for your new aluminium verandas in London. To find out more about garden room planning permission in your area, visit the GOV.uk website.
Customisable Options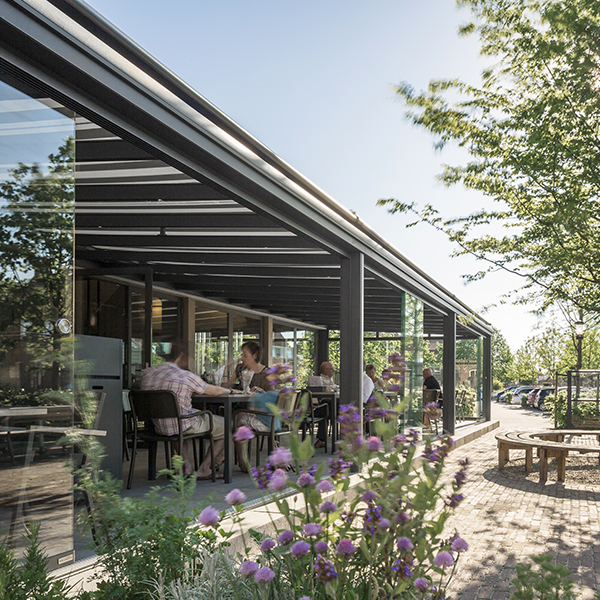 Glass Sliding Doors
The beautifully transparent full-glass sliding door allows you to open up one or more sides of your panoramic veranda. The slim frame is powder coated to match the colour scheme, and available in up to five tracks for the maximum views. Locking handles increase security and clear weatherseals keep the changeable London weather outside of your extension.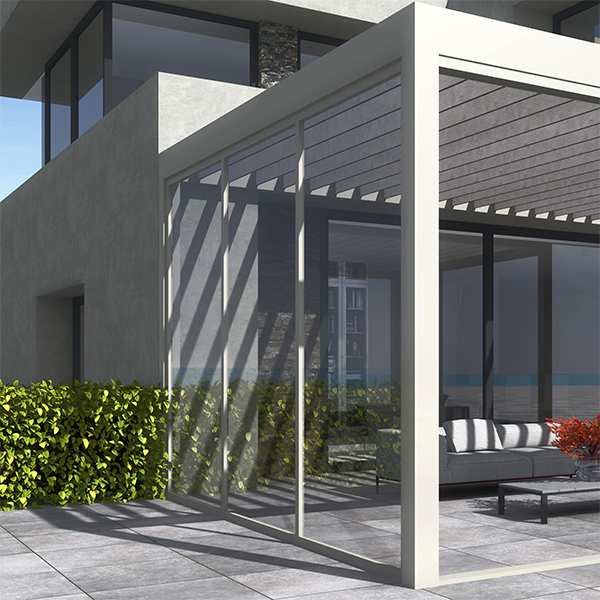 Glass Walls
Glass walls close off one or more sides of your panoramic veranda without compromising on the view. The slim frame is powder coated to match the existing design. Available with aluminium mullions for better airtightness and stability or glass-to-glass joins for the ultimate in clear unobstructed views. The glass can be back-painted, heated, solar coated or switchable to fit your needs.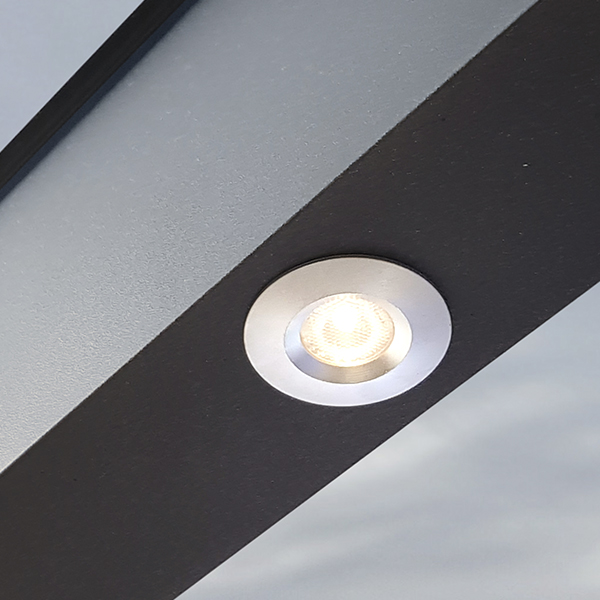 LED Spot Lights
Ultra-compact, the highly efficient warm-white LED downlights can be integrated into the rafters of your panoramic veranda in groups of up to 12 spots. These can be operated and dimmed with an optional remote control or hard-wired to a light switch.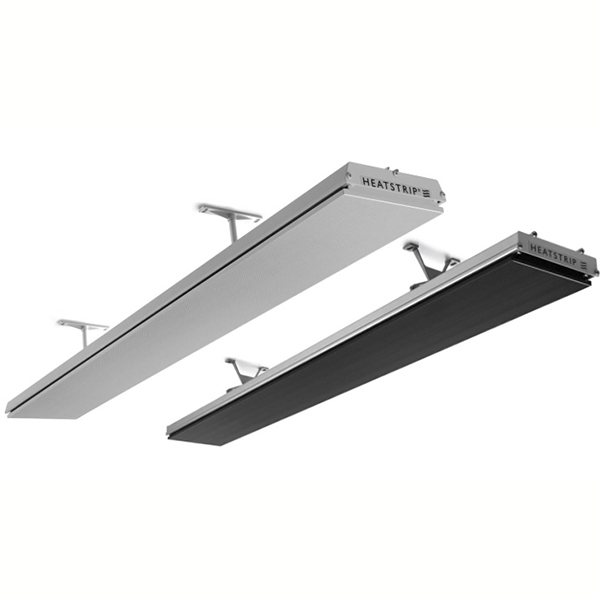 Heatstrips
The modern electric strip heater is designed and weathersealed for outdoor use. It produces a radiant heat with zero orange glow, heating people and surfaces rather than the air, making it suitable even for open-sided panoramic verandas. Available in light and dark finishes and a range of wattages to suit all needs.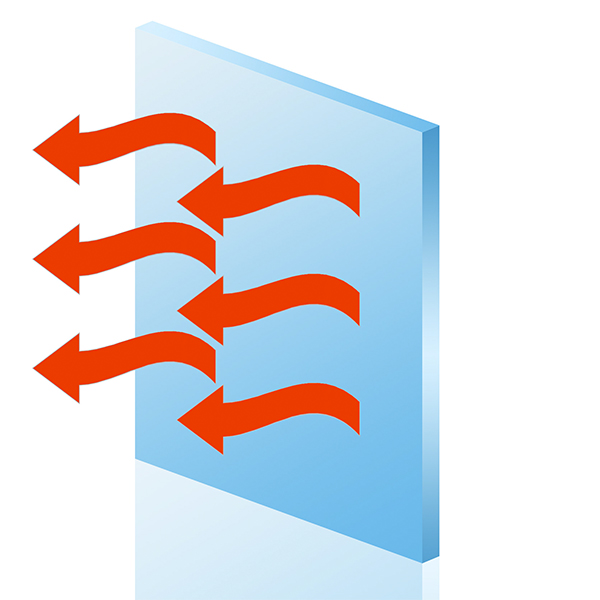 Heated Glass
Our glass is manufactured with a clear thermal film that transforms the entire pane into a transparent electric heater. Your panoramic veranda will be heated in an efficient way, ensuring your glass walls and roof will remain condensation free. This beautiful minimal and practical heating solution is available in a range of wattages, fitting your needs perfectly.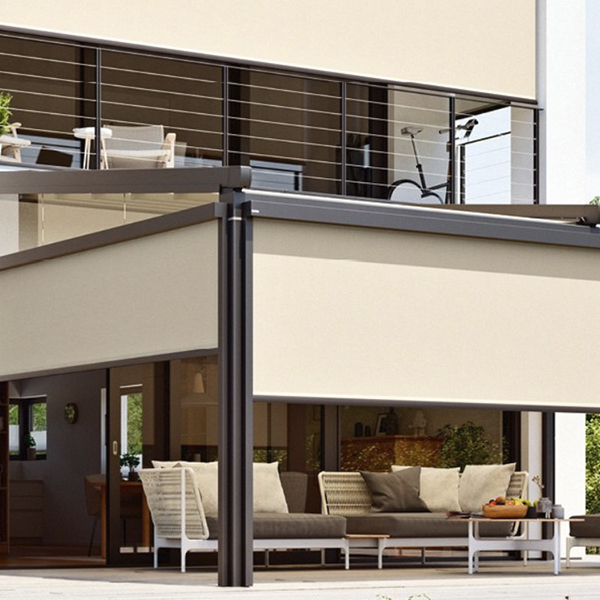 Vertical Blinds
We offer robust, motorised vertical blinds form a leading German manufacturer to offer privacy to your Panoramic Veranda, shielding it from the wind without blocking out all the light. Blinds are tensioned to withstand high wind pressures and the available fabrics are designed with durability in mind. These blinds can be operated by remote control and integrated with home-automation systems and smartphones with the optional smart module.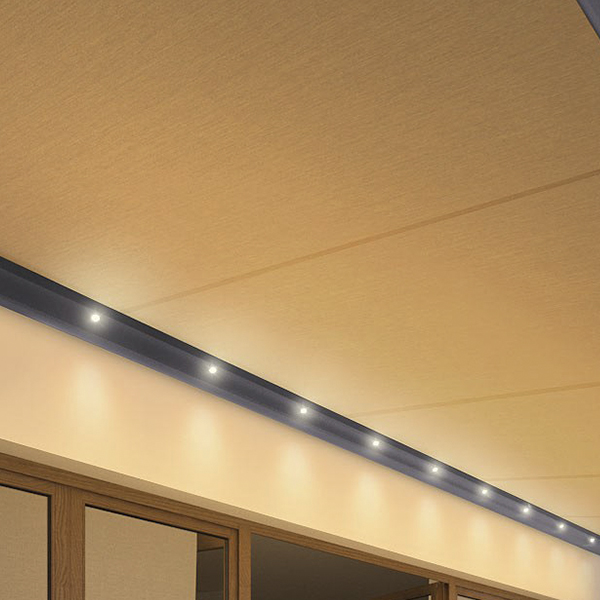 Roof Blinds
If you want to add privacy to your Panoramic Veranda without blocking out all the light, then you can choose our motorised roof blinds. These blinds are tensioned to withstand high wind pressures. Available in a range of fabrics, thy can be top-mounted or under-mounted, able to be integrated into any of our verandas with their casing and tracks powder-coated to match. Able to be operated by remote control, these blinds can also be integrated with home-automation systems and smartphones with the optional smart module.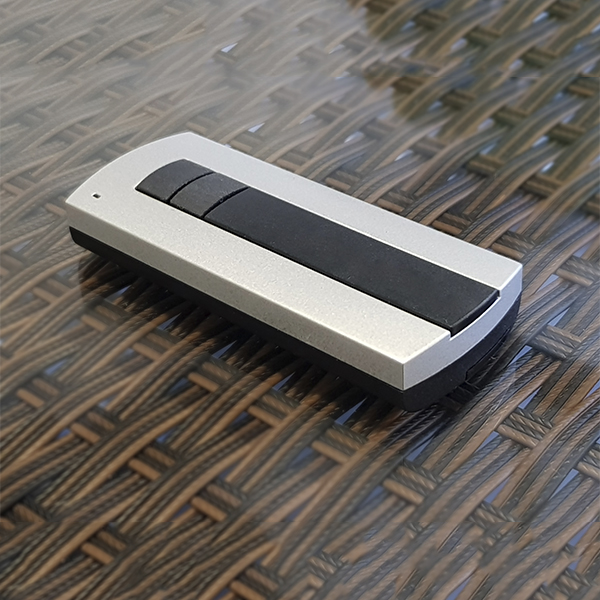 Remote Control
The optional remote control lets you dim the LED spot lighting in your Panoramic Veranda.
Colour Options
Our Pergolas and Verandas are available in over 100 different custom RAL colours, as well as the standard colour options.
Please note, colours may appear differently on your particular device screen. Images are for reference only.
Veranda Prices, London
With an aluminium veranda from Better Outdoors, you can benefit from an exceptional range of performance features that will greatly enhance the functionality of your home. All of our verandas in London are competitively priced, so you can be sure to find an outdoor living area that suits your budget perfectly.
Why not try our verandas quoting engine, and receive a free, personalised quote on your aluminium verandah. Alternatively, you can get in touch with a member of our team who will be happy to answer any queries you have regarding your aluminium garden room installation. Give us a call on 01923 932 492 or send our team a message.
Need a Quote?
Get in touch with us today to discover more about our range of products. A member of our friendly team will be happy to discuss your requirements and construct a complete quotation based on your exact specifications.
Request a Quote