Pergolas are a great way to modernise your home and create a stunning outdoor living space you can enjoy throughout the year.
They can be used for a variety of purposes and designed to suit you. Whether you want the perfect relaxation spot for the summer or a cosy atmosphere for the winter, we have a range of ways you can enhance your pergola space.
If you're stuck on inspiration on what to use your new pergola space for, then we have come up with 6 ways on how you can utilise your garden room space.
Otherwise, read on for 3 customisable options that can instantly transform the style and functionality of your bioclimatic pergola.
Create a Stylish & Spacious Summer Room
To give you a bit more flexibility when it comes to the purpose of your pergola, why not opt for glass sliding doors?
They are incredibly slim in their design, and their transparent aesthetic will allow natural light to flood the space throughout all seasons.
Open up on or more sides of your garden pergola and easily access the outdoors throughout the summer season.
Our slimline sliding doors seamlessly blend the interiors of your UK home with your garden surroundings, creating a bright and spacious area you can enjoy with all your friends and family.
For better ventilation, the glass sliding doors can be fully opened, allowing you to stay cooler for longer.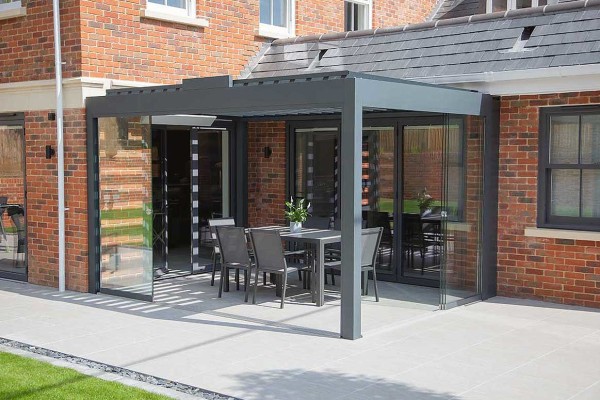 The Perfect Winter Retreat
With Better Outdoors, you won't have to worry about not being able to make use of your pergola all year round.
You'll be pleased to know that you can make custom additions that will help keep your bioclimatic pergola space comfortable and cosy.
Did you know you can add glass panelled walls to your garden pergola?
You can choose to have glass walls installed into the design of your pergola and still enjoy the panoramic views of your UK surroundings. Not only do they look stunning, but they also have the power to heat the interior of your pergola space.
The smart glass of our pergola glazed panes have been designed to provide your garden room with extra warmth. The transparent electric heater will keep the chilly temperatures out and the warm temperatures in, giving you the perfect winter garden room.
The optional heatstrips will keep your home warm during the colder months, heating people and surfaces rather than just the air. You have the option to choose the finish of the strip as well as the wattage.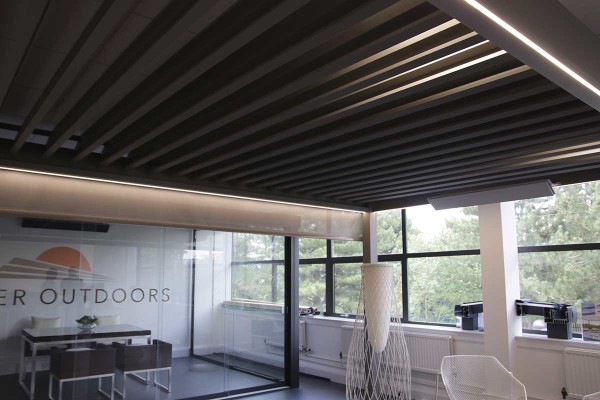 A Pergola Controlled By Technology?
It's true! A Better Outdoors bioclimatic pergola can be controlled by a remote or your smartphone. The modern design is so clever that you needn't worry about wires or cables ruining the aesthetics of your pergola space.
There are a selection of great features you have the power to control. The vertical blinds can be controlled by you. If you want to block out the sun, and shade yourself, then your remote can instantly control when and how much of your outdoor living space you want to be protected.
If you choose to have LED spotlights or strip lighting installed into the pergola frame, then just like the blinds, you also can control their function with either the remote control or with your smartphone.
To control your garden pergola features, you will simply need to download an app to your phone. If you'd prefer to have a remote control, then our super friendly team will guide you through the process on how to control your pergola.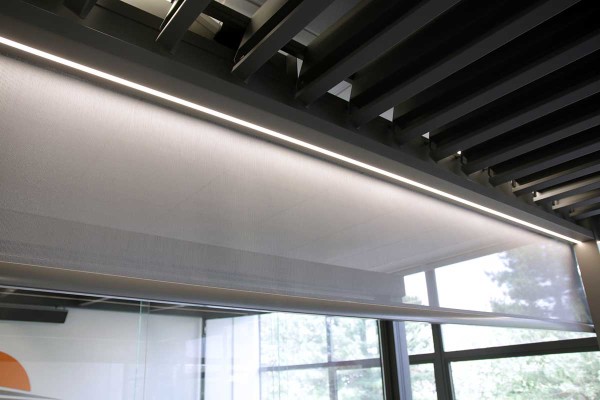 Looking for a modern pergola in London or the UK?
If you're interested in modernising your outdoor living space with a stylish garden pergola, then we hope this list will convince you to invest in a Better Outdoors pergola. A pergola can be utilised in many ways to suit you and the purpose of your garden room.
Get in touch with our team today, and we will help you find your local Better Outdoors installer. They will assist you in designing and installing a bespoke garden bioclimatic pergola or veranda that's perfect for you.
Request a free quote with our quoting tool, and we will design you an outdoor living space, including all the additional customisable options.
Send us a message via our online contact form or call us on 01923 932 492.