Panoramic Verandas
Here at Better Outdoors, we can help you redefine your outdoor living space with a range of panoramic verandas in Slough. With our aluminium glass verandas, you can benefit from a sleek and stylish appearance that offers an impressive range of performance features. The modern design of the panoramic veranda has been carefully crafted to ensure that every homeowner receives an outdoor living space they can enjoy for several years.
Manufactured using premium grade aluminium, you can rest assured that your new panoramic verandas will stand the test of time and resist damage from harsher weather conditions. Completely weatherproofed, the panoramic verandas in Slough will not rot, warp, crack or twist after years of use. To keep your aluminium outdoor living space looking as good as new, simply wipe down with a damp cloth.
Get in touch with Better Outdoors today for modern bioclimatic pergolas that excel in both their design and performance. The modern design allows them to be delivered promptly and easily installed into your Slough property.
Customisable Verandas
Garden verandas are typically attached to an existing property, allowing you to extend your home and create a space that can be used for a variety of purposes. Whether you want a winter retreat or the perfect summer relaxation spot, you can tailor the design of your panoramic verandas to suit your needs with our range of customisable options. You have the option to add glass walls and doors, heated glass, LED lighting and blinds.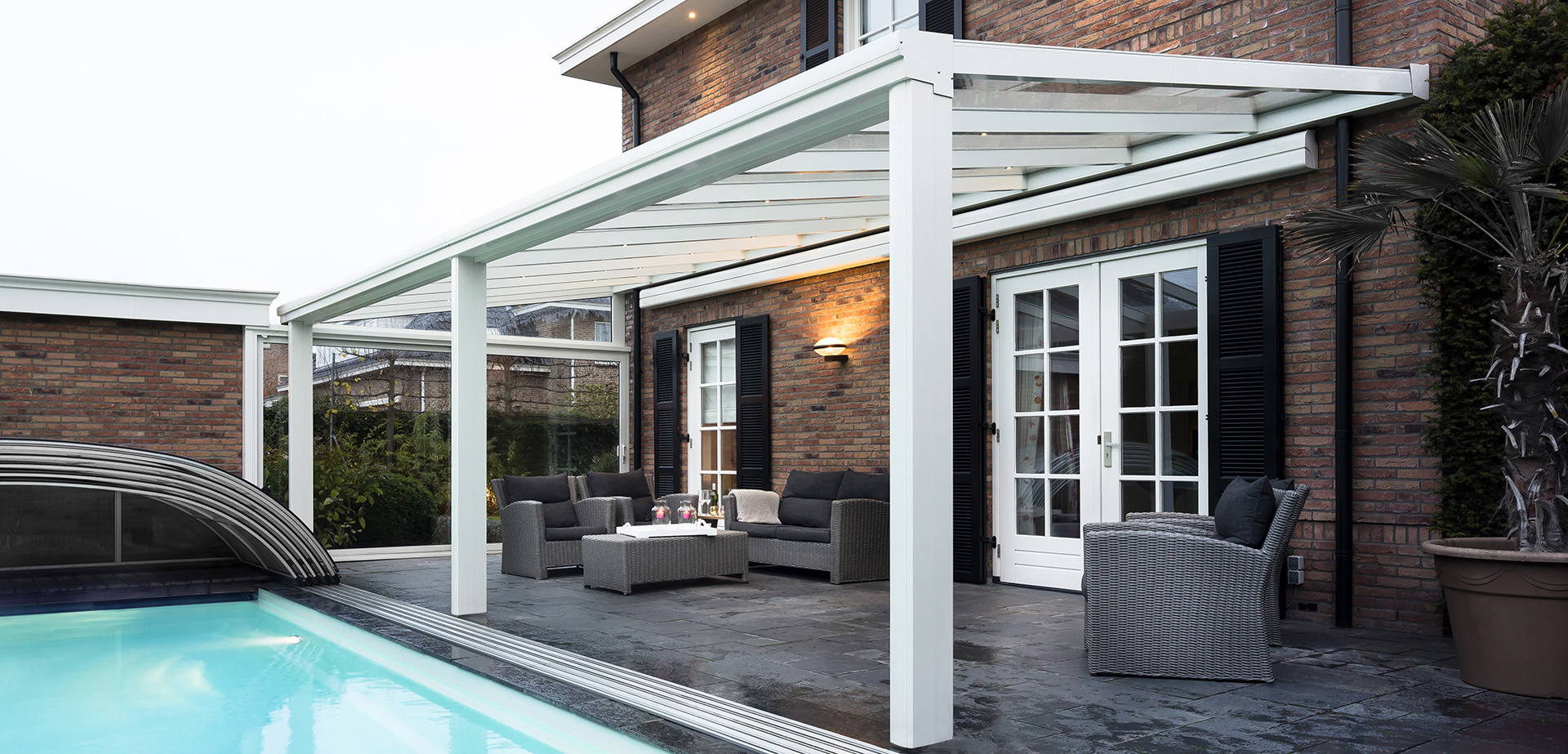 Optional Walls & Doors
With the option to have glass walls bifolding doors and sliding doors incorporated into the design of your panoramic verandas, you can create an outdoor living area that can be used for a variety of purposes throughout the year. The expansive glazed panels not only allow you to enjoy panoramic views of your Slough surroundings but with glass doors, you also have the option to open up your glass veranda space in the summer and keep your home warm and cosy during the winter.
Robust Structure
Using high quality materials to manufacture the panoramic verandas, you can rest assured that you'll be investing in a home improvement that has been built to last. Aluminium is known for its inherent strength and will protect you against the unpredictable British climates. Not only this, the aluminium profile will offer exceptional security, keeping unwanted intruders out of your Slough property.
Optional LED Lighting
If you want a space you can use when the natural light disappears; then our optional LED lights will allow you to illuminate your glass veranda. The spotlights can be incorporated into the design of Slough panoramic verandas. The ultra compact LED lights are highly efficient and can be installed into groups of up to 12.
Integrated Heating
When the temperatures become cooler, you can still enjoy your new outdoor living space by incorporating heat strips and heated glass into the design. Elegant in their design, the heatstrips are weathersealed for outdoor use. The heated glass has been carefully manufactured using a clear thermal film which turns the entire glazed panel into an electric heater.
Key Features
Thermally Efficient
When investing in a new veranda for your home, you want to feel confident that you can create a garden room that will offer incredible energy efficiency. Our panoramic verandas will keep your Slough home well insulated all year long due to their robust aluminium frame. The modern design has been designed to trap warm pockets of air, allowing your outdoor living space to retain heat for a more extended period of time.
Bespoke Customisations
At Better Outdoors, we want to give our customers new panoramic verandas that perfectly matches the style of your home. Our aluminium verandas are versatile in their design, allowing you to design an extension for your home that suits the purpose you require it for. Choose from a range of colours, customisable features and configurations, and utilise the space you have with a Better Outdoors panoramic veranda.
Low Maintenance
If you're looking for a cost-effective garden veranda solution that requires little maintenance from yourself, then you've come to the right place. The powder coating will also prevent the colour of your panoramic verandas from fading. Simply wipe down with a damp cloth to maintain the impressive visuals your new veranda has to offer.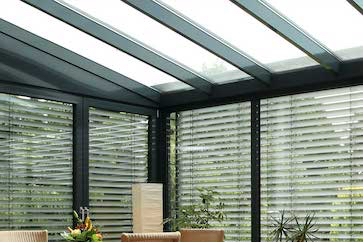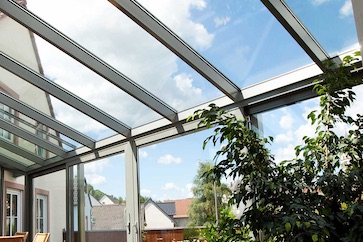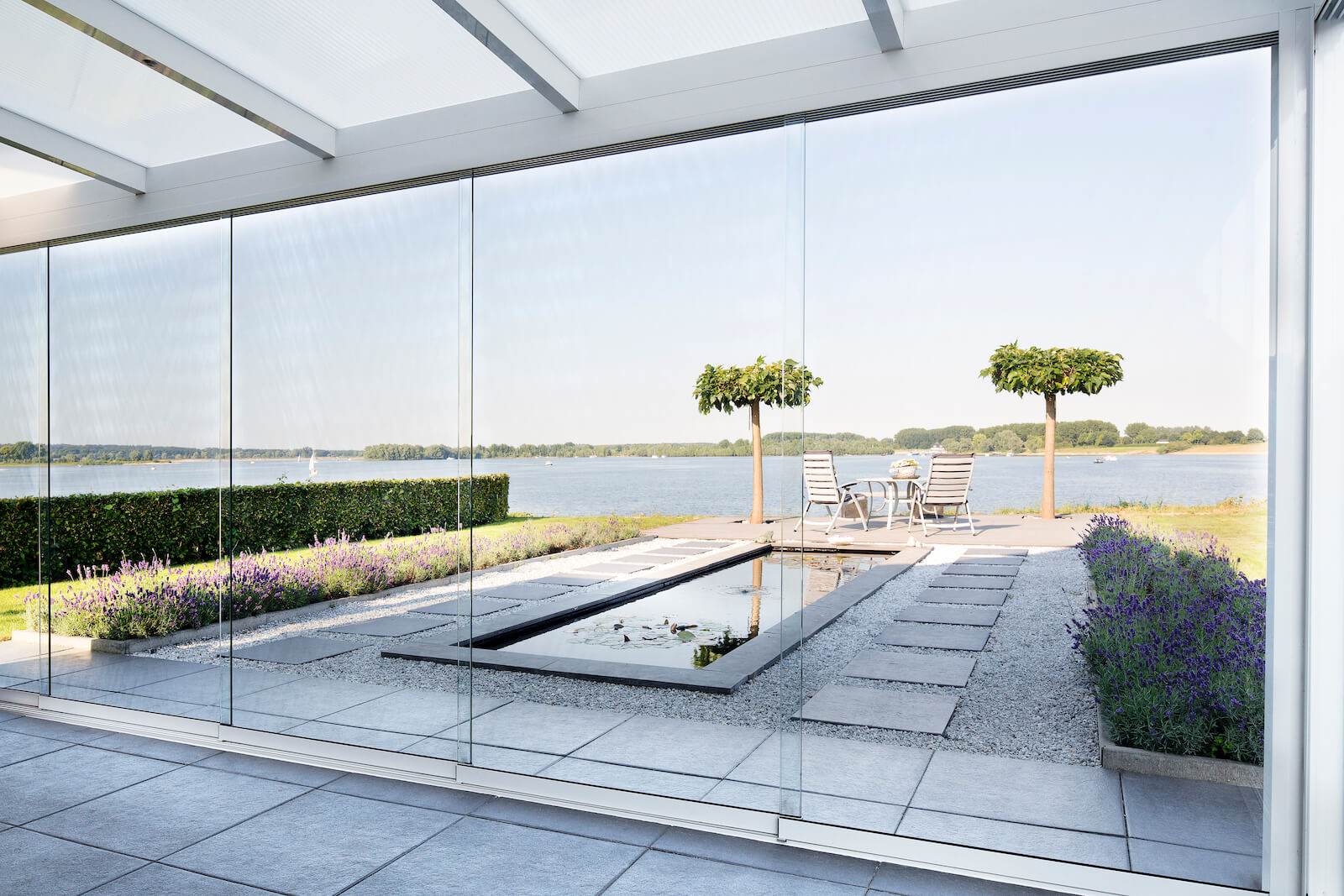 How Can I Make My Bioclimatic Veranda Private?
To create an outdoor living space that offers the right amount of privacy you require, you can opt for vertical blinds. Not only this, but you can install glass walls that are made of liquid crystal glass.
How Does the Rain Sensor Work?
If you opt for a rain sensor to be incorporated into the design of your aluminium veranda, you can benefit from roof blades that automatically close when the rain starts to pour.
Will My Veranda Withstand Heavy Snow?
We all know how unpredictable the UK weather is. You'll be pleased to know that our garden rooms can withstand a maximum snow load of 70-85 KG/m2.
Customisable Options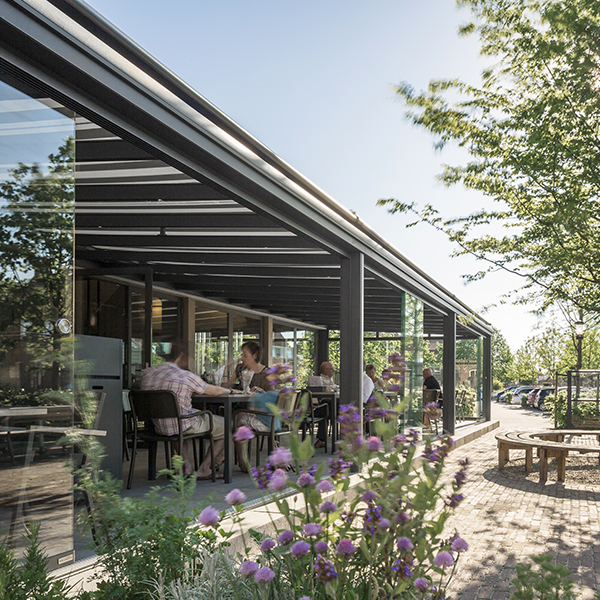 Glass Sliding Doors
The beautifully transparent full-glass sliding door allows you to open up one or more sides of your panoramic veranda. The slim frame is powder coated to match the colour scheme, and available in up to five tracks for the maximum views. Locking handles increase security and clear weatherseals keep the changeable London weather outside of your extension.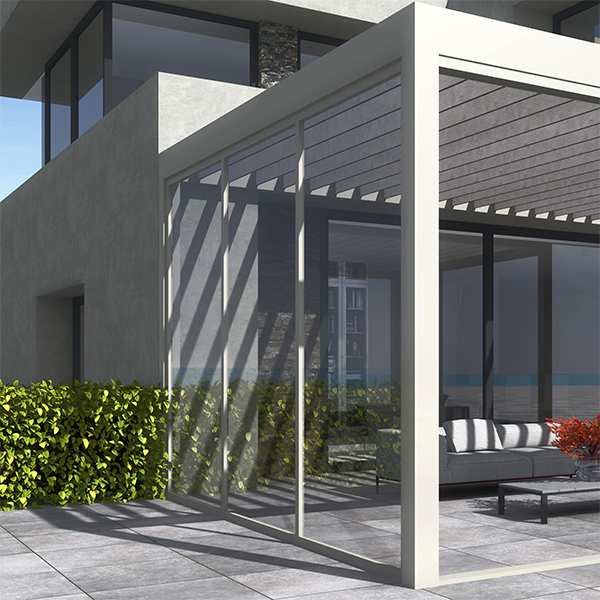 Glass Walls
Glass walls close off one or more sides of your panoramic veranda without compromising on the view. The slim frame is powder coated to match the existing design. Available with aluminium mullions for better airtightness and stability or glass-to-glass joins for the ultimate in clear unobstructed views. The glass can be back-painted, heated, solar coated or switchable to fit your needs.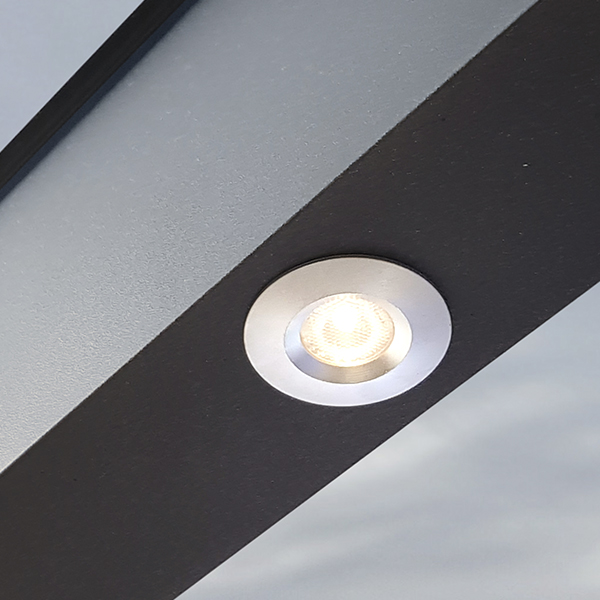 LED Spot Lights
Ultra-compact, the highly efficient warm-white LED downlights can be integrated into the rafters of your panoramic veranda in groups of up to 12 spots. These can be operated and dimmed with an optional remote control or hard-wired to a light switch.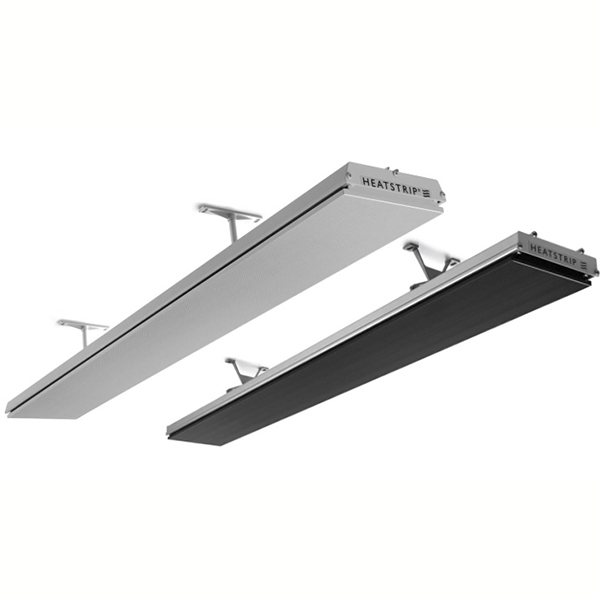 Heatstrips
The modern electric strip heater is designed and weathersealed for outdoor use. It produces a radiant heat with zero orange glow, heating people and surfaces rather than the air, making it suitable even for open-sided panoramic verandas. Available in light and dark finishes and a range of wattages to suit all needs.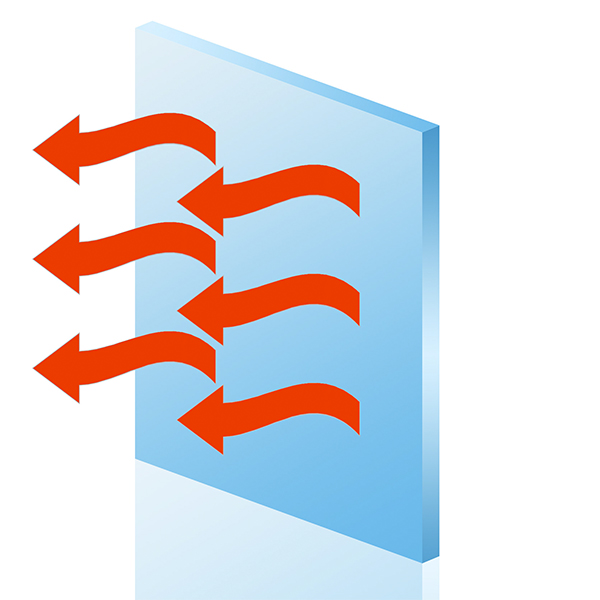 Heated Glass
Our glass is manufactured with a clear thermal film that transforms the entire pane into a transparent electric heater. Your panoramic veranda will be heated in an efficient way, ensuring your glass walls and roof will remain condensation free. This beautiful minimal and practical heating solution is available in a range of wattages, fitting your needs perfectly.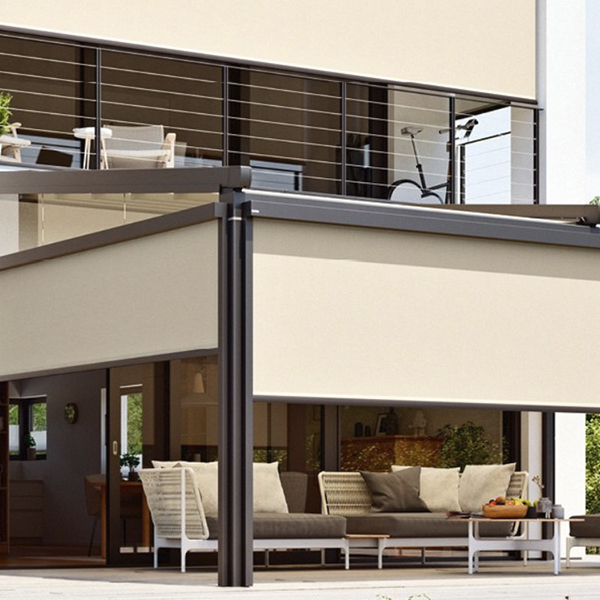 Vertical Blinds
We offer robust, motorised vertical blinds form a leading German manufacturer to offer privacy to your Panoramic Veranda, shielding it from the wind without blocking out all the light. Blinds are tensioned to withstand high wind pressures and the available fabrics are designed with durability in mind. These blinds can be operated by remote control and integrated with home-automation systems and smartphones with the optional smart module.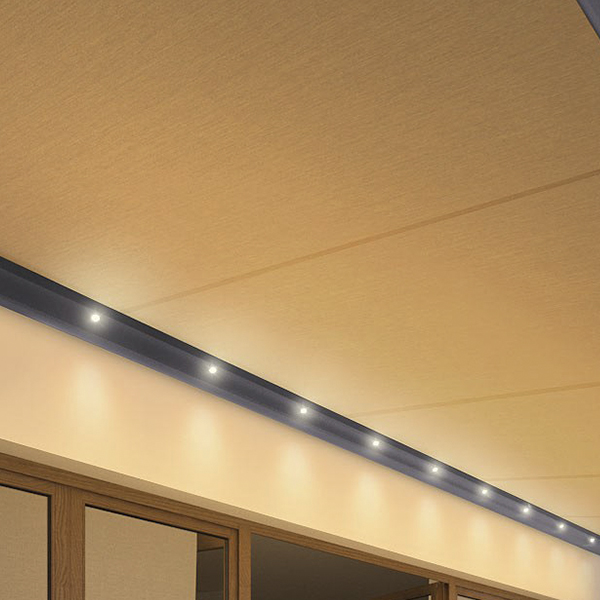 Roof Blinds
If you want to add privacy to your Panoramic Veranda without blocking out all the light, then you can choose our motorised roof blinds. These blinds are tensioned to withstand high wind pressures. Available in a range of fabrics, thy can be top-mounted or under-mounted, able to be integrated into any of our verandas with their casing and tracks powder-coated to match. Able to be operated by remote control, these blinds can also be integrated with home-automation systems and smartphones with the optional smart module.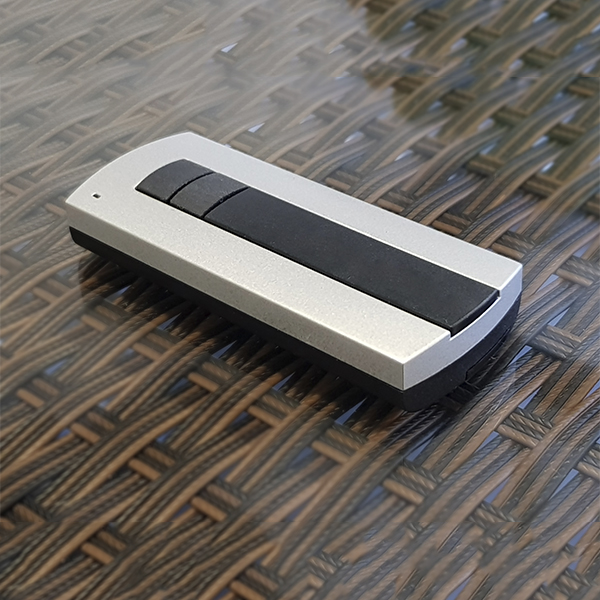 Remote Control
The optional remote control lets you dim the LED spot lighting in your Panoramic Veranda.
Colour Options
Our Pergolas and Verandas are available in over 100 different custom RAL colours, as well as the standard colour options.
Please note, colours may appear differently on your particular device screen. Images are for reference only.
Panoramic Veranda Prices, Slough
If you're looking for competitive and affordable panoramic verandas prices, then Better Outdoors can give you exactly that. Our aluminium panoramic verandas are a cost effective solution that will provide you with several years of service.
Why not try our online quoting engine and receive a free online panoramic verandas quote.
Alternatively, you can get in touch with a member of the Better Outdoors team. They will be happy to answer any queries you have regarding your new glass veranda project. Call us on 01923 932 492 or send us a message via our online form.
Need a Quote?
Get in touch with us today to discover more about our range of products. A member of our friendly team will be happy to discuss your requirements and construct a complete quotation based on your exact specifications.
Request a Quote