Create The Perfect Winter Garden with a Brand New Aluminium Pergola
So you've just invested in a brand new aluminium pergola for your London or UK home, but how do you turn your new pergola space into the perfect winter room?
At Better Outdoors, we have a range of aluminium pergolas designs that can be perfectly tailored to create the ideal winter living space.
With a range of customisable options to choose from, you can generate a winter garden that can be used for a variety of unique purposes.
Keep on reading to find out how you can utilise your London or UK garden and create the perfect pergola winter garden.
Step 1: Add in Glass Walls & Doors
By adding in glass walls and doors into the design of your pergola, you can benefit from exceptional thermal efficiency, creating a cosy and comfortable winter garden room. We have a stunning collection of glass walls as well as slimline sliding doors and aluminium bifold doors.
All styles will offer your outdoor living area in London or the UK with uninterrupted views of your garden.
The doors and glass walls are fully customisable, so we can help you create the perfect winter space that is tailored to suit your requirements. Whatever size winter garden you're after, the glass walls, bifold doors or sliding patio doors can be custom sized and custom designed to match the existing architecture of your property.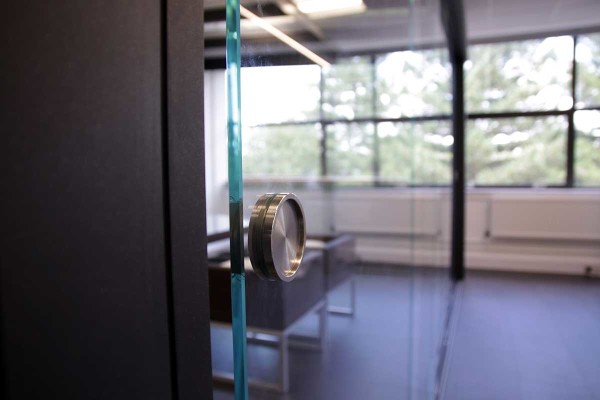 Step 2: Incorporate Heatstrips & Heated Glass into the Design
To keep your winter garden in London warm and cosy throughout the winter, you can add in a selection of heating options.
This way, you can enjoy uninterrupted views of your garden all year long, whilst keeping you and your family cosy and comfortable in your new winter room.
Minimalistic and discreet in their design, the heatstrips can be incorporated into the frame of the pergola and provide your winter garden with enough heat to keep you comfortable during the colder months of the year. The heatstrips are available in light and dark finishes as well as a range of wattages.
We also offer heated glass options. By investing in heated glass panels, you can benefit from an invisible radiator that heats your winter garden efficiently. The heated glass walls have been designed with a clear thermal film, which transforms the entire pane into an impressive electric heater.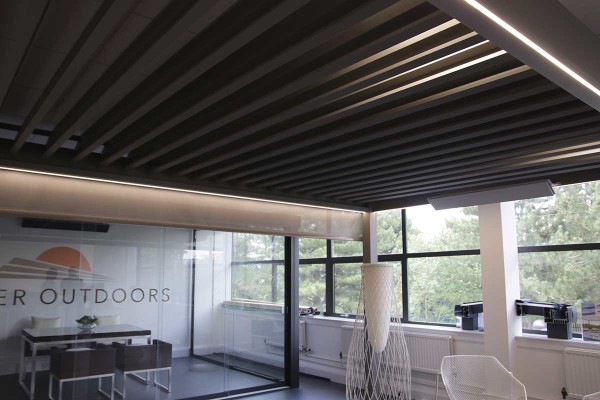 Step 3: Add in LED Lighting
Why not add in unique LED lighting to your pergola winter garden? By incorporating spotlights into the winter room, you can create the ideal outdoor living area that can be used when the natural light disappears and the dark skies taker over.
They offer a subtle yet effective design that features an integrated diffuser for a sharper and more contemporary aesthetic. The lights are incredibly flexible, allowing you to control how bright or dim they appear. You can also choose whether the strip lights are incorporated into all four beams of the pergola.
The LED lights come in warm white or RGB LED lighting – which gives you the option to mix the colours and create any colour you desire. The choice is up to you!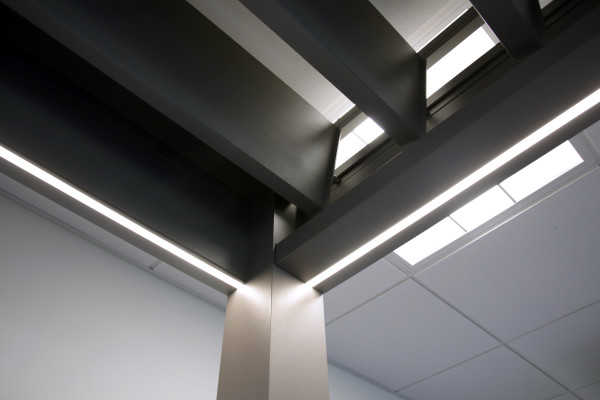 So there you go, if you follow our handy guide, you can create the perfect winter garden for your home in London or the UK. Our bioclimatic pergolas can be custom designed to suit your exact specifications. Create a Better Outdoors and redefine your outdoor living space with a brand new winter room.
Winter Garden Prices, London
For more information on our winter room prices, why not try our online quoting tool. This handy calculator allows to designs your bespoke winter garden in London and receive an estimated price. Simply enter in your details and get your winter garden room quotes today!
If you have any further questions, you can get in touch with a member of our team who will be happy to answer any queries regarding your pergola winter room in London or the UK. You can contact us by calling us on 01923 932 492.