Bioclimatic Pergolas – Wembley
Our bioclimatic pergolas in Wembley are the perfect outdoor living solution that will protect you throughout the day from sun, rain and snow. These external structures are fitted with remote controlled motorised louvres which is what makes our bioclimatic pergola so unique.
The motorised blades, or louvres, are angled so you can customise how much sunlight enters your pergola. It also means that when it rains, you will be able to close them to protect your space from getting wet offering you complete control over the changing weather conditions. This is paired with concealed drainage to ensure the water is not sitting on top of your pergola.
No matter the weather, you can always enjoy your time in your Wembley garden with our bioclimatic pergolas. In addition, the blades of the bioclimatic pergola can be angled to allow for a light breeze.
Our bioclimatic pergolas in Wembley will provide your property with a stylish and comfortable outdoor living solution that will change the way you perceive outdoor living.
Customisable Pergolas in Wembley
We offer our customers the ability to create a personal space with our bioclimatic pergolas. Possibilities are endless when Wembley homeowners and tradespeople choose Better Outdoors. We offer you a range of colour options alongside a vast selection of customisable options, such as glazed doors and glass walls, LED strip lights and even a rain sensor. This allows us to provide you with a bioclimatic pergola that is perfectly suited to your needs and taste.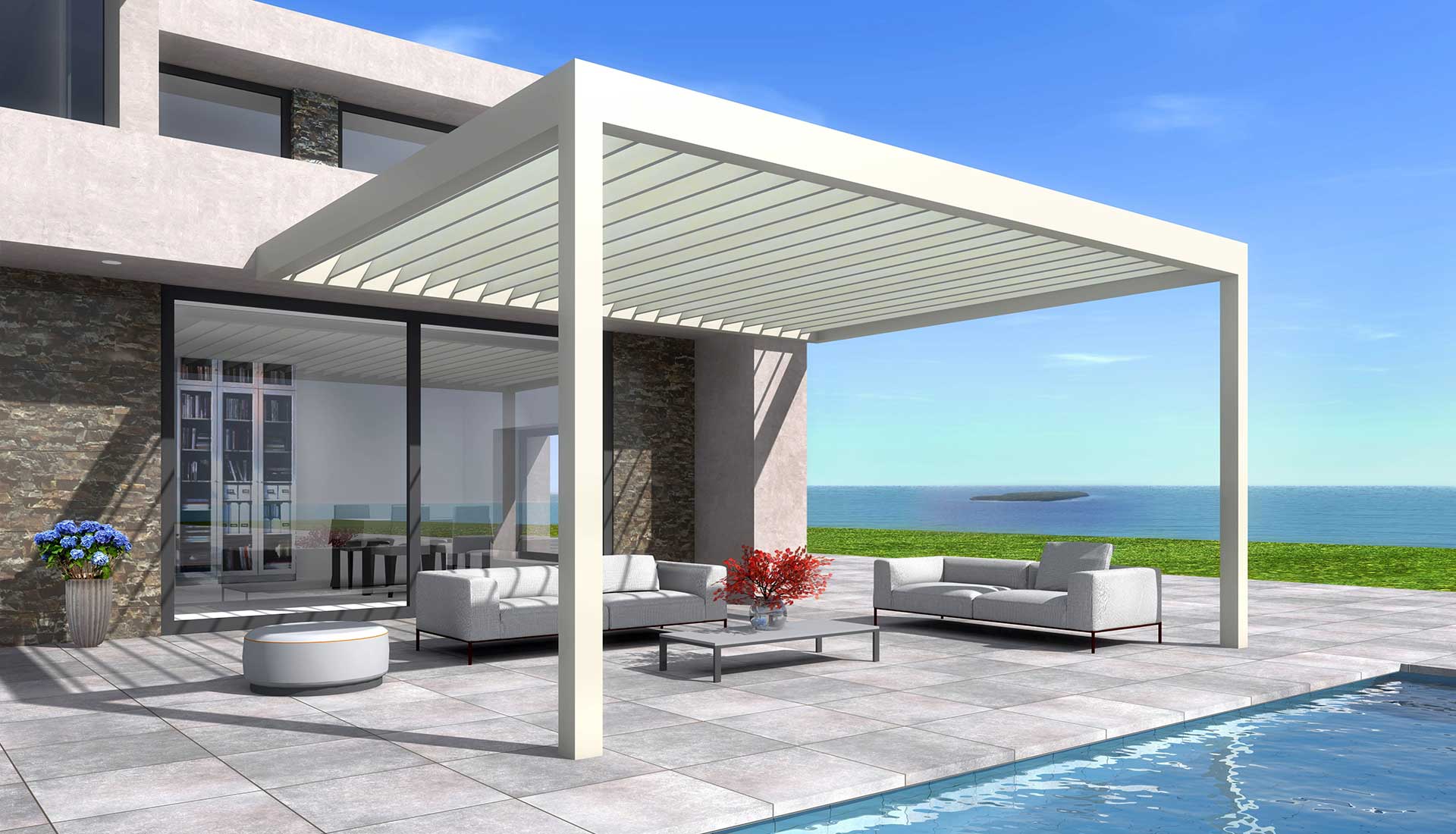 Full Aluminium Construction
The aluminium construction of our bioclimatic pergolas provides you with a modern and sleek aesthetic that will stand the test of time. Aluminium is a favoured material amongst architects due to its unique features.
Large Span (Up to 6 Metres)
Because out bioclimatic pergolas are built from such a wonderful material, they are able to accommodate a wider area. Our designs can be built up to 6 metres to cater for larger properties. Because of this, our aluminium pergolas are very popular amongst the hospitality industry as well as homeowners. Create the perfect outdoor space of up to 6 metres!
Motorised, Remote Control Roof Blades
The motorised roof blades are designed to protect your pergola, and also anything that is inside. We can provide you with a remote control that will control the opening of your roof blades. This will give you full control over the ventilation, as well as providing you with cover from the rain at the touch of a button.
Optional Bluetooth Module
Our modern bioclimatic pergolas are fitted with the best of modern technology. As an optional extra, we can integrate our Bluetooth module which means you will be able to adjust your pergola with your smartphone. This includes the angle of the motorised louvres, as well as any additional LED lighting that you choose to install.
Key Features
Simple Installation
Our bioclimatic pergolas have been cleverly designed to allow for a quick and simple installation. This means that your Wembley property will have minimal disruption, and you will have your new pergola installed promptly. Our designs mean that they can also be transported easily and manoeuvred through smaller spaces before being assembled in your garden or patio. For more information on our pergola installations, please visit us or give us a call.
Premium Grade Aluminium
The bioclimatic pergola from Better Outdoors is manufactured using premium grade materials and offer a beautiful finish that is favoured by architects. The robust aluminium structure is far superior to other materials used for similar products. Suited to all environments, our systems will not warp or suffer from UV degradation like uPVC and do not rust like steel structures. For bioclimatic pergolas in Wembley that have a long lifespan, get in touch with Better Outdoors.
Suitable for All Spaces
Not only do our pergolas allow for easy transportation and installations in Wembley, but they can also be modified in size to suit your outdoor space. Our configuration options start from a design of 11 roof blades and a width of 2532mm and up to 28 roof blades with a max width span of 6000mm. This can be expanded further. With intermediate posts, we can build a structure of up to 60m! We can also design your motorised roof pergola to feature a cantilevered or suspended roof to help you save on space.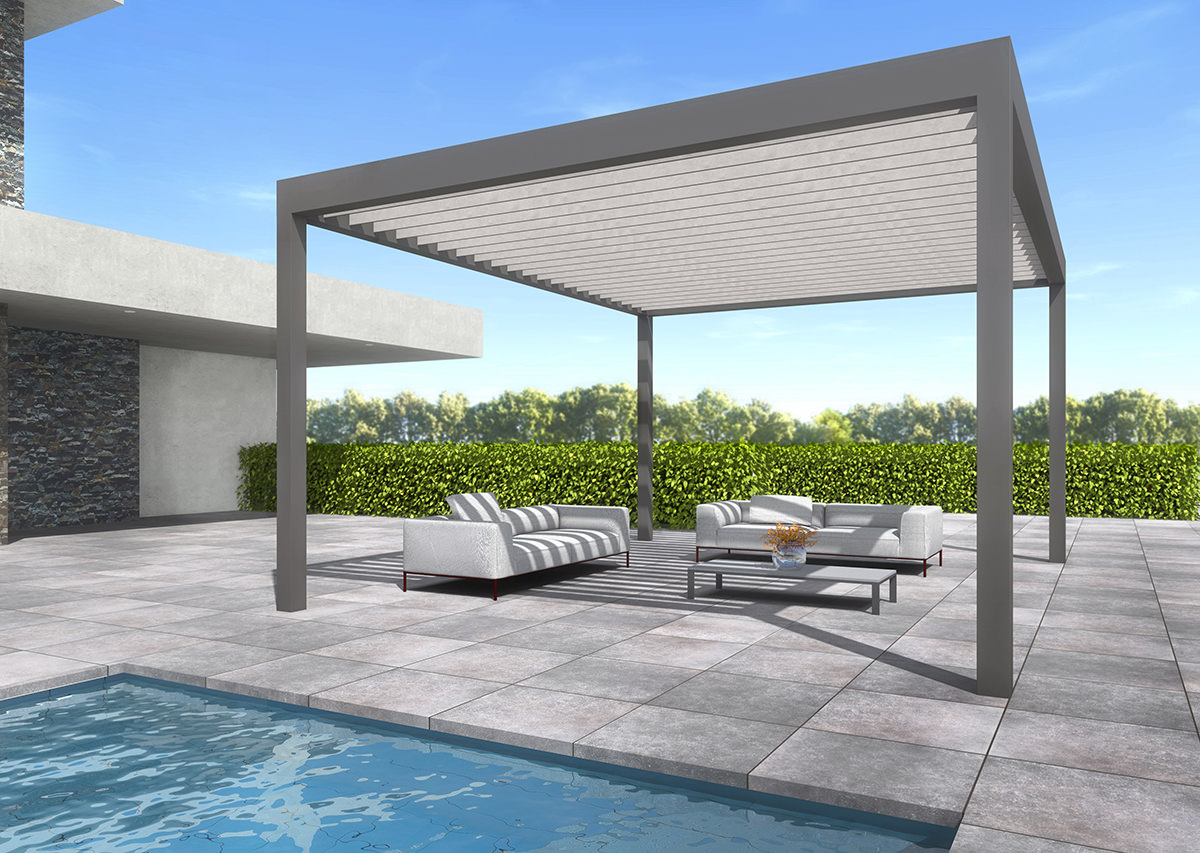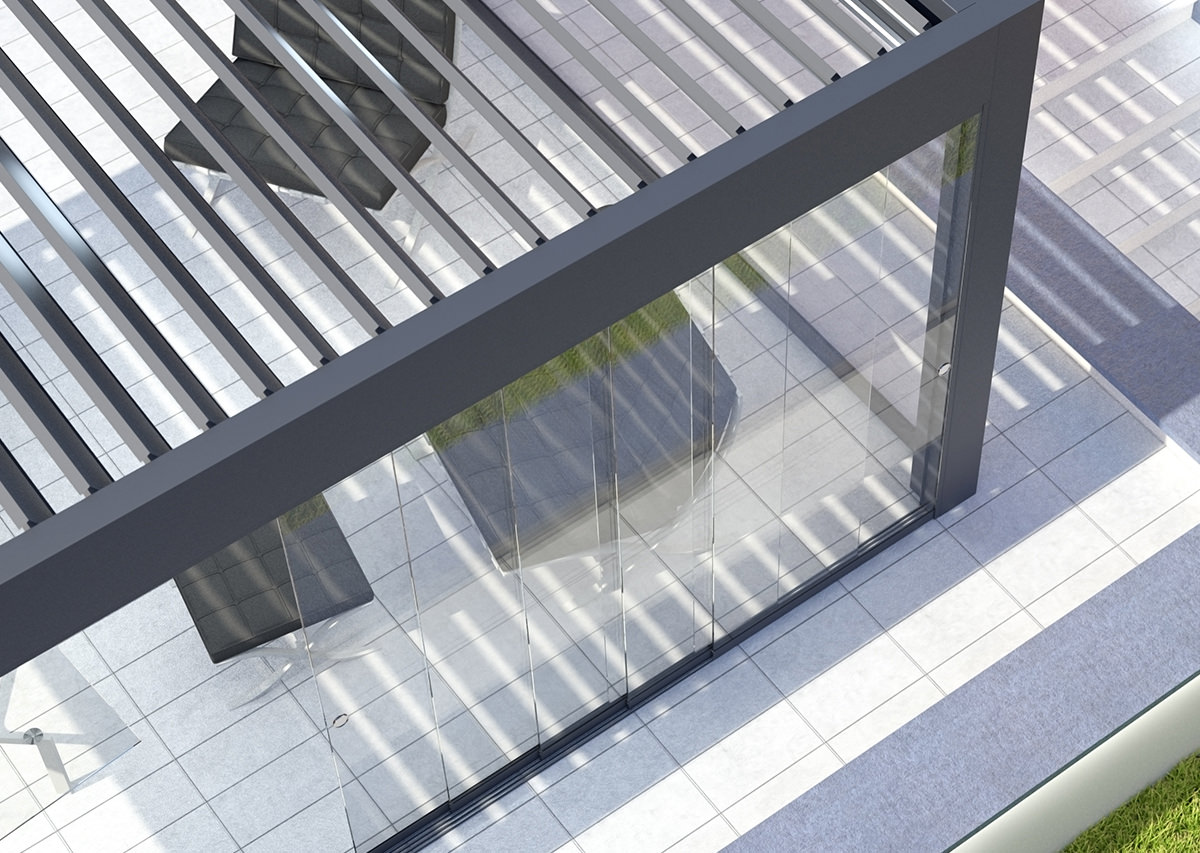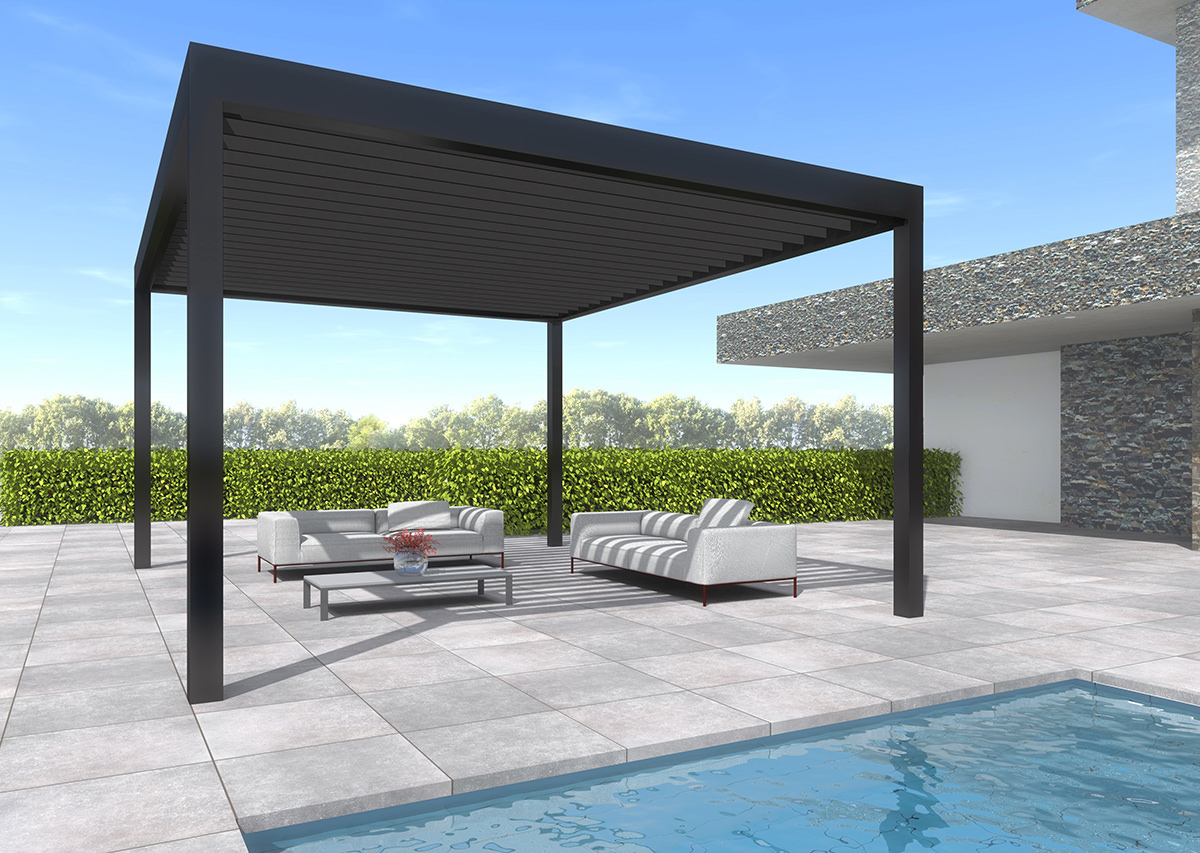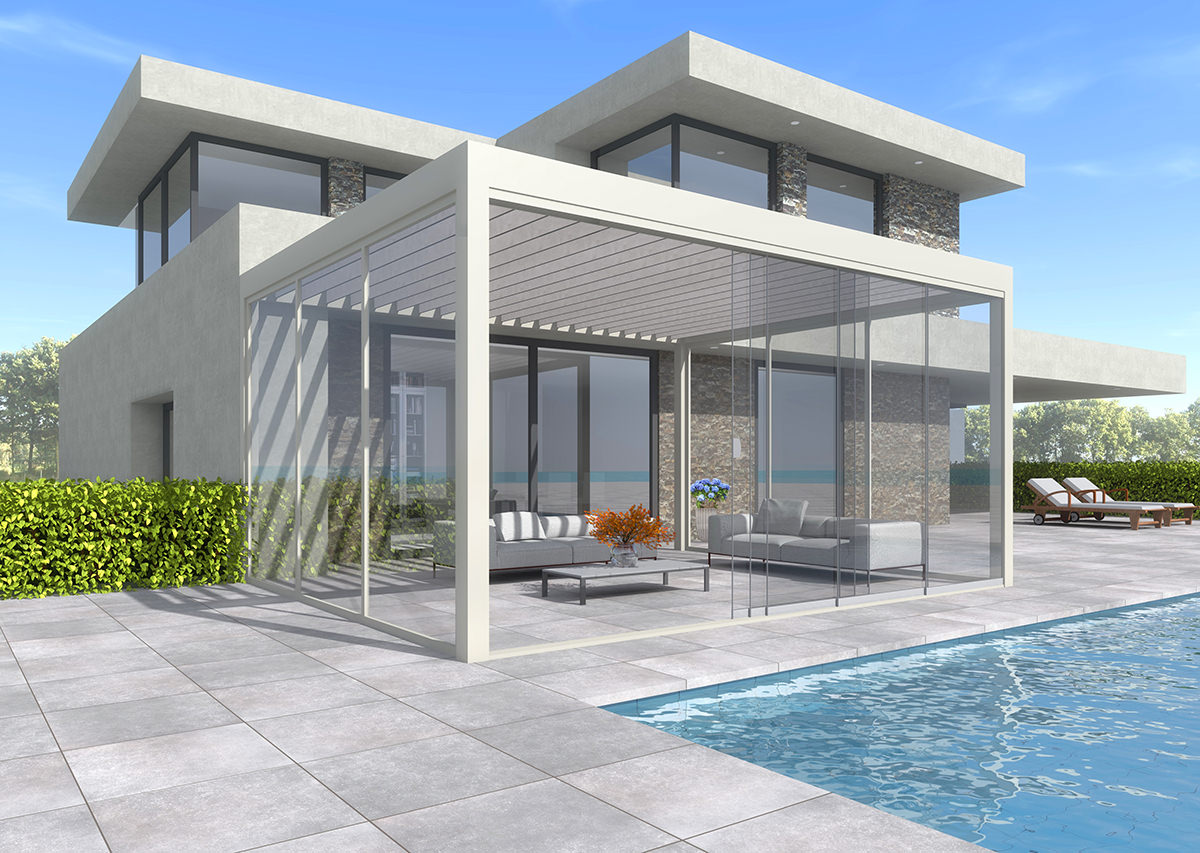 How can I make my bioclimatic pergola private?
We offer a couple of options which can help you to enhance the levels of privacy with your bioclimatic pergola. We offer external vertical blinds which operate similarly to the motorised remote-controlled roof blades. We can also provide you with glass walls that are made of Liquid Crystal Glass (LCG), meaning you can benefit from privacy with the flick of a switch.
How does the rain sensor work?
If you choose to have a rain sensor installed into your Wembley bioclimatic pergola, you will benefit from roof blades that will automatically close, just in time for the downpour.
Will my bioclimatic pergola withstand heavy snow?
Because we know that weather in the UK is very unpredictable, we offer you a pergola that can bear a maximum snow load of 70-85 KG/m2. This is also paired with thermal freeze protection to ensure that the snow load does not interfere with your new outdoor living space.
Bioclimatic Pergola Prices, Wembley
Our bioclimatic pergola prices in Wembley are incredibly competitive. We offer you an outstanding value with the quality and longevity of our systems. You can use our online pricing tool to design your pergola with or without all of our wonderful additions. You can choose from a glazed pergola, custom RAL colours, rain sensors or Bluetooth interfaces and so much more.
We also offer you the ability to let us know how many walls or sliding doors you want on each side of your pergola system, and they can be installed with or without mullions.
If you are looking for the perfect bioclimatic pergola for your Wembley project, start your free online quote now.
Request a Quote
Visit Our Showroom
If you would like to discuss your designs in person, become part of our trade network, or want to see the bioclimatic pergola in action, you can visit our London showroom which is not too far from Wembley. We can demonstrate the motorised roof system to you and show you all of the customisation options that can be installed, such as blinds, sliding doors, and LED lights.
Colour Options
Our Pergolas and Verandas are available in over 100 different custom RAL colours, as well as the standard colour options.
Please note, colours may appear differently on your particular device screen. Images are for reference only.
Need a Quote?
Get in touch with us today to discover more about our range of products. A member of our friendly team will be happy to discuss your requirements and construct a complete quotation based on your exact specifications.
Request a Quote