The Next Step To A Pergola Canopy – Bioclimatic Pergolas
Popular amongst many homeowners in London and the UK, a canopy pergola allows you to use your outdoor living space throughout the year. Here at Better Outdoors, our aluminium bioclimatic pergolas take the retractable canopy to the next level by offering a range of bespoke features that keep your home performing efficiently.
If you'd like to find out more about the incredible features and benefits our pergolas with retractable canopies offer, then keep on reading. You can also get in touch with a member of our team by calling us on 01923 932 492.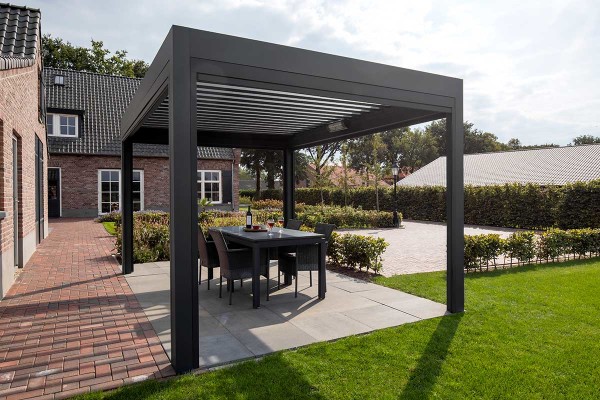 11. Weather Sensor Roof Louvres
Are you worried about the unpredictable British climate affecting the use and performance of your new aluminium pergola?
With our luxury outdoor living spaces, you can still have time to read your book or relax in your garden space without the worry of harsher weather conditions making your run for cover.
Featuring a modern rain sensor, the retractable canopy is able to sense when the weather starts to turn, closing and adjusting the roof blades to keep the contents below safe and dry.
This unique feature is incredibly modern and offers inherent strength that will protect your pergola more than that of traditional pergola canopies.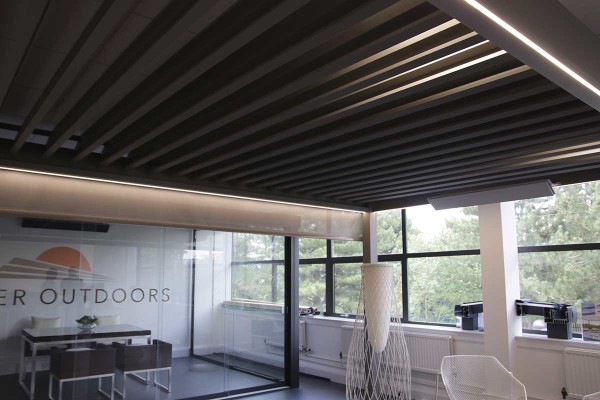 2. Motorised System
The innovative designs of our canopy pergolas in London feature motorised roof blades. Whether you require improved ventilation for your outdoor living space or want complete cover from the elements outside, the roof blades can be controlled to accommodate.
It can be controlled by a remote system, making it incredibly easy for you to control whether you want to the roof blades open or closed.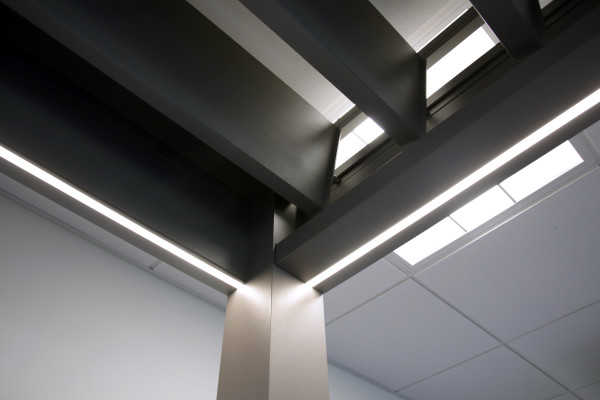 3. Fully Controllable Blinds & Roof Blades
If you're good with technology, then our bioclimatic pergolas with retractable canopies are the perfect home improvement for you. If you own a smartphone, then you have the option to download an app and control certain features of the pergola via Bluetooth.
As well as the automatic rain sensor, the roof blades are one of the features that can be controlled via your phone. This allows you to adjust the blinds and control the opening and closure of them to suit your needs.
Optional roof blinds can also be incorporated into the design of the bioclimatic pergolas, creating a bespoke pergola canopy and further enabling you to control the privacy and ventilation of your outdoor living space.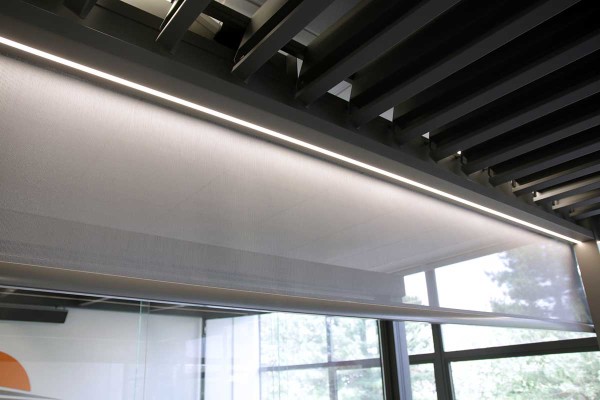 Pergola Prices in London & the UK
If you've been inspired by the range of impressive features and benefits our aluminium pergolas have to offer then why not invest in one today! Our aluminium canopy pergolas offer modern features that will instantly impress all your guests!
Why not request a quote and you can receive a personalised price for your brand new pergolas with a retractable canopy. All you need to do is enter in your details and a member of our team will be in touch with your price.
If you have any further questions about our aluminium pergolas, then please don't hesitate to get in touch with a member of our team. You can give us a call on 01923 932 492 or send us your queries via our online contact form.